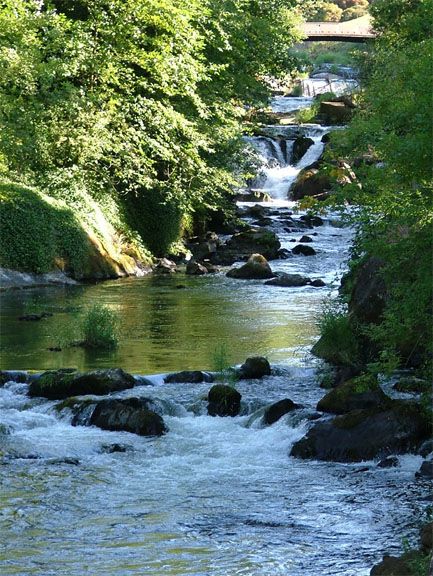 Photo of Tumwater Falls above the Old Brewhouse Courtesy of Wikimedia Commons
One good tribute deserves another and that last tribute by Kurt Dunbar to his mother was amazing.    It kind of blows my mind that one of my first introductions to the power of rivers occurred with my mother when I was a wee lad.   This excerpt from A River Knows My Name contains one my my first memories and impressions of Tumwater Falls shortly after we moved to Olympia.    The untold tragedy in this story is that both of my mother's original paintings were stolen and the photo shown in this posting was taken from a print.  So glad I at least had that.  I refer to mother as The Artist.    
The Artist was a feather of a woman and probably the only one in her family that didn't smoke.  She talked about her father being bajorai, which in Lithuanian means, of the nobility, ironic given what I knew about his work as a working-class labor activist fresh off the boat at Ellis Island.  Once a peace activist herself, living the bohemian lifestyle among progressives in Post-Depression Chicago, she converted to Catholicism and eventually moved west to Seattle.   She had a story about the inspiration behind her conversion, but much of her life remained a mystery to me.  Her cryptic comments left much to the imagination.            
She was a brilliant artist, and our basement was crammed full of old portraits and half-finished sketches of people I had never known, more clues to a mystery I would never solve.  The eyes in her portraits were haunting, especially the one of my sibling.   The Sibling's eyes had a tranquility that none of the other paintings did, and she sat with stoic confidence, wearing her floppy hippie hat she wore in deference to her idol Janis Joplin.  Perhaps the softness of the eyes was the Artist's wish for whom she might have been. 
The Artist never finished any of our portraits and they would only serve as irony to the incompleteness of our own lives as they would unfold in the later years.  The pictures eventually became the ghosts of our basement, unfinished thoughts gathering dust in cluttered closets, restless spirits awaiting a closure that would never come.  
Though the Artist was content to spend much of her life indoors, there was one painting she did that required her to be outside for long stretches of time—the old Brewery, a dilapidated yet noble brick building rising stoically on the eastern shore of the Deschutes River at the base of Tumwater Falls.   It became a ritual where the Rock would drive her down past Bing Crosby's grandparent's old house in Tumwater to the edge of the river.  There she would set up her easel and paint.   There was something about that cascading water that drew her in.   Between the roar of the Interstate 5 bridge just above, and the roar of the falls, she became lost in her work.  Sometimes the Rock took pictures on his polaroid so she could paint at home, but they were never good enough.  She would say, "Pictures are not the real thing.  Artists paint from life."   She kept going back.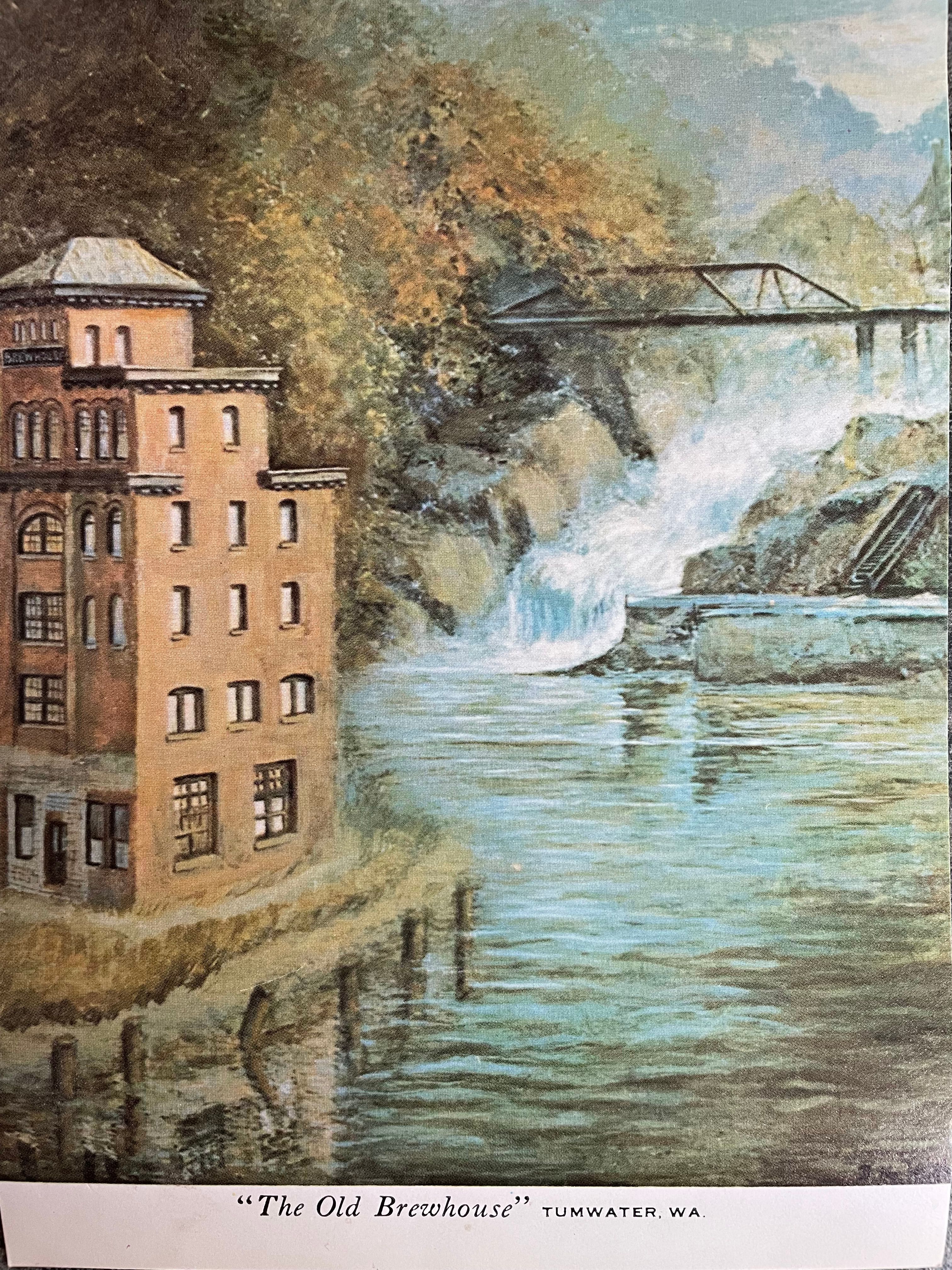 As her painting evolved, it lit up our basement, and I would stare at it for prolonged periods of time.   I could almost feel the vibration of the cascading water tumbling down off the slick rocks.  I could practically smell the mud of the river shore and hear the mergansers chattering in the reeds.  I could smell the hops.   When I was young, years before she started the painting, she and I would wander up and down the trail next to the falls.  Sometimes we would simply stand on the bridge staring into the white foam, sharing in silence our connection to the moving water.  Adjacent to the bridge was protrusion of rock, forty or so feet over the estuary leading to Capitol Lake glistening by the perpetual mist being blown back.  Sweltering summer days would often find kids from all over Tumwater and Olympia creeping carefully out to the edge of this protrusion before leaping into the white froth with terrified shrieks, vanishing in the mist long before they landed, popping to the surface in the boiling foam just downstream.   "Don't you ever do that," she would warn me.  
"Oh, I never will," I imagine I might have said.    
I would marvel at her painting on the easel, and every day after school I would rush downstairs to the basement to check and see how it had changed.  It shifted moods from day to day and eventually I could not imagine much more that she could add to it.  Yet, she said it was far from done.   I would notice over time, the subtleties that would appear.  Sometimes the river corridor above the brew house seemed more shaded.  Other times, less so.  Over time, the painting changed like the seasons, yet she never seemed satisfied and as she neared its completion, she grew more restless, more frustrated.  It was as if completing it would be a sort of death to her, a death she could not bear.   Years later she did finally announce that it was done, she said she hated it.   She started all over again on a new one.