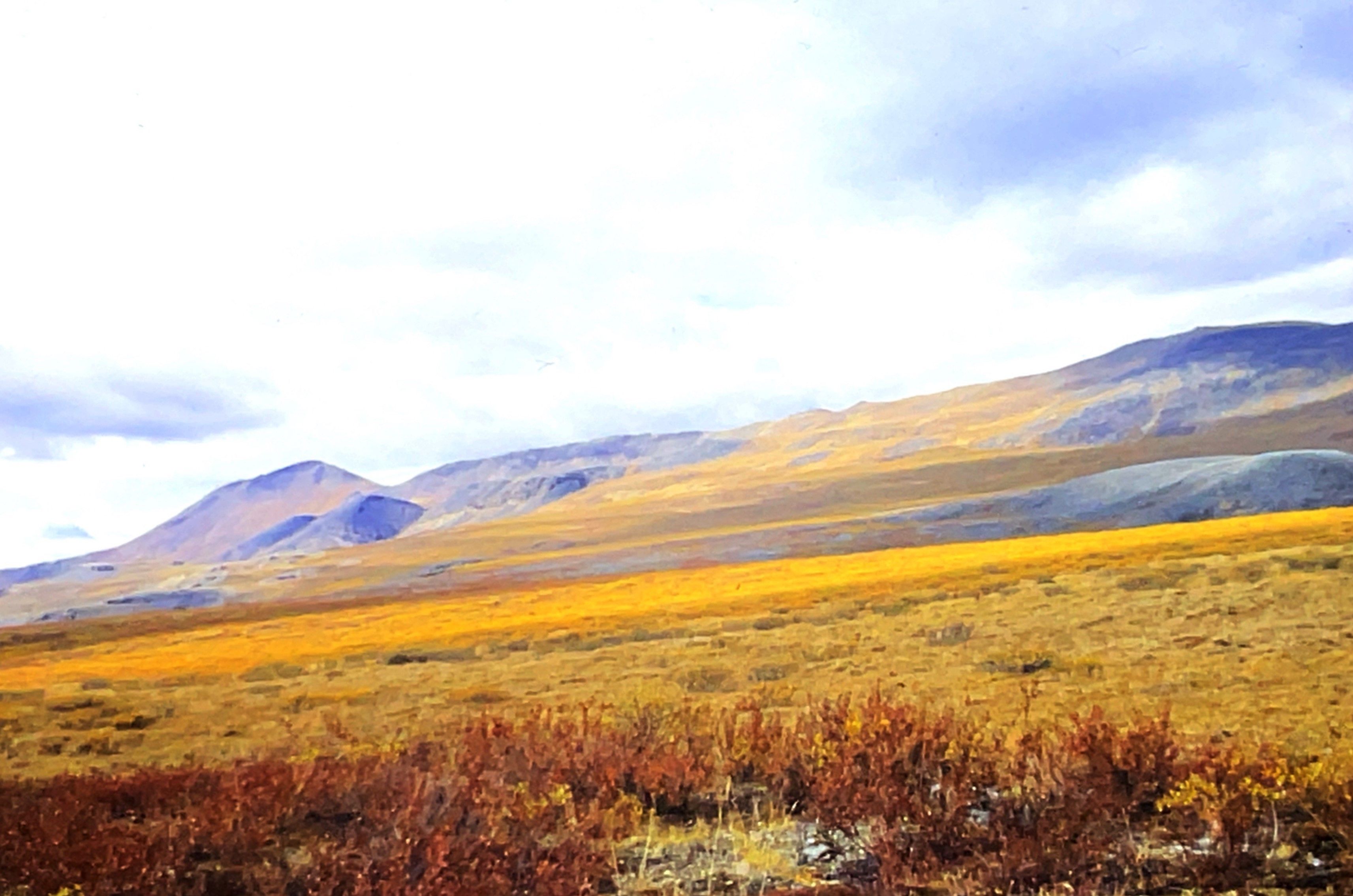 In 1991, I took what would amount to a ten-year break from teaching.  I spent that summer reading Tolstoy and salvaging scrap wood from construction sites to build a cabin on a fellow rainforest activist's land.  It was to be very rustic with no running water and my oven would consist of a single burner.   This would be the closest I had been to living my dream as a renunciant but when a neighbor complained to the city that I was building an illegal structure, I headed north for some high adventure with Dana Lyons who was already up in Homer, Alaska visiting his good friend Mavis Muller. 
After flying into Anchorage, I caught a ride with a Pentecostal family I met on the plane, and that night they took me to their home in Soldotna.  In the morning I attended the most charismatic religious service where people were speaking in tongues.  Then we went out to breakfast and the minister insisted on giving me five dollars and drove me out to a good place to catch a ride.  As I stood in a 7-11 phone booth, telling my girlfriend about this wild experience so far, a moose walked right past me, through the parking lot, and across the street without a fear in the world.  Welcome to Alaska! 
Shortly after, I hitched to Homer just in time to see Dana performing at the annual Salmon Festival and upon my arrival, I learned that Daryl Cherney was part of their entourage.  Daryl had just been to a hearing in Anchorage about opening the coastal plain of the Arctic National Wildlife Refuge to oil drilling, right in the heart of the calving grounds of the Porcupine Caribou.  The Gwich'in depend on the Porcupine Caribou for their subsistence.  Daryl crashed the meeting dressed up like a caribou, and apparently caused quite a ruckus.  Gwich'in tribal activist Sarah James who was speaking there invited him, Dana, Mavis, and everyone else that was part of their entourage up to Arctic Village nestled on the southern edge of the Brooks Range.   Lucky for me, I was now part of this wild adventure-to-be.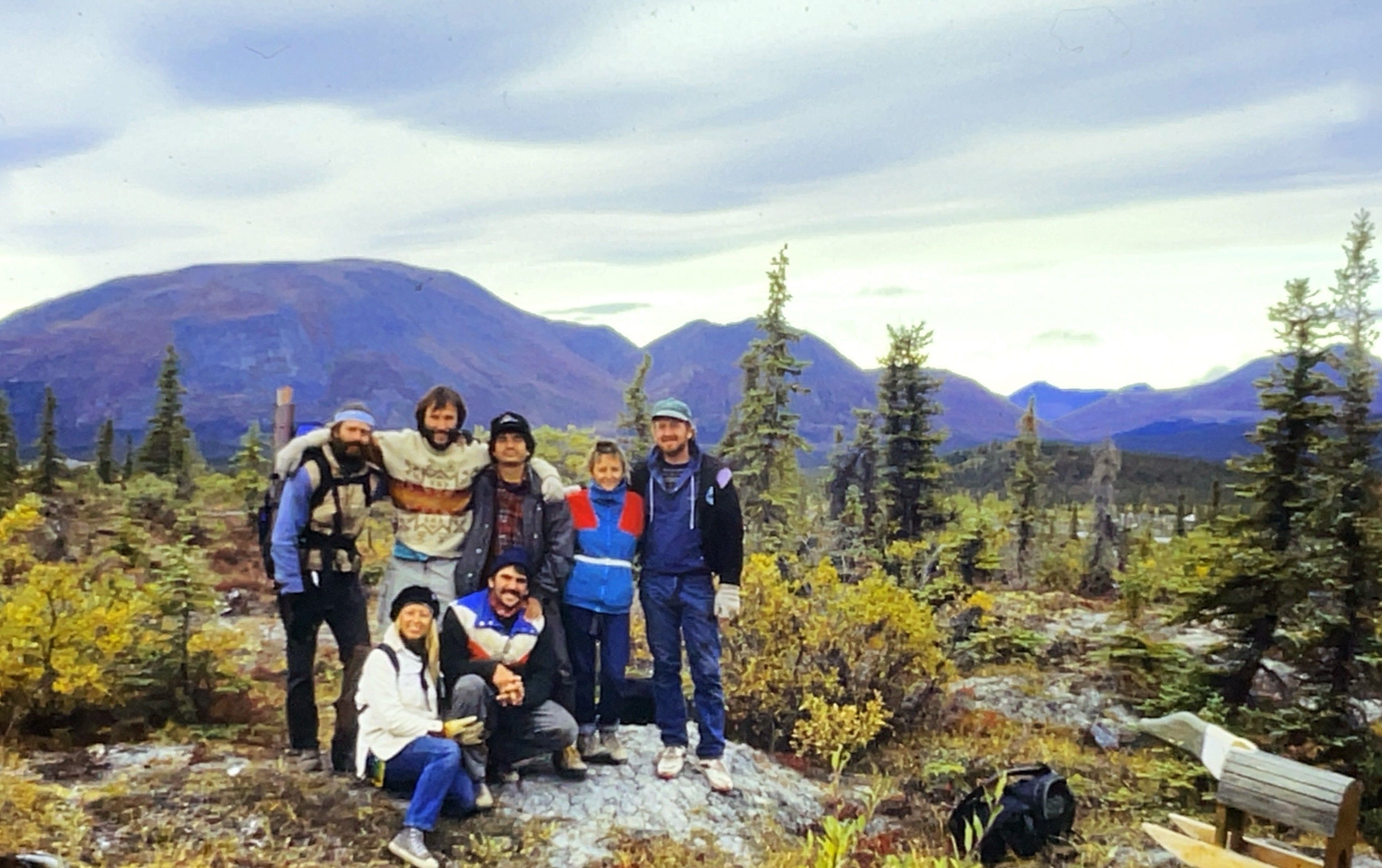 Shortly after Salmon Fest, our colorful band of misfits all piled in a van, drove up to Fairbanks, and bought plane tickets on Wright Air to Arctic Village, Alaska, about 250 air miles north of Fairbank and on the southern edge of the Brook's Range.    As we flew over the Yukon River, I was overwhelmed by the size and magnitude of this drainage.  At this point, we were barely half-way to Arctic Village.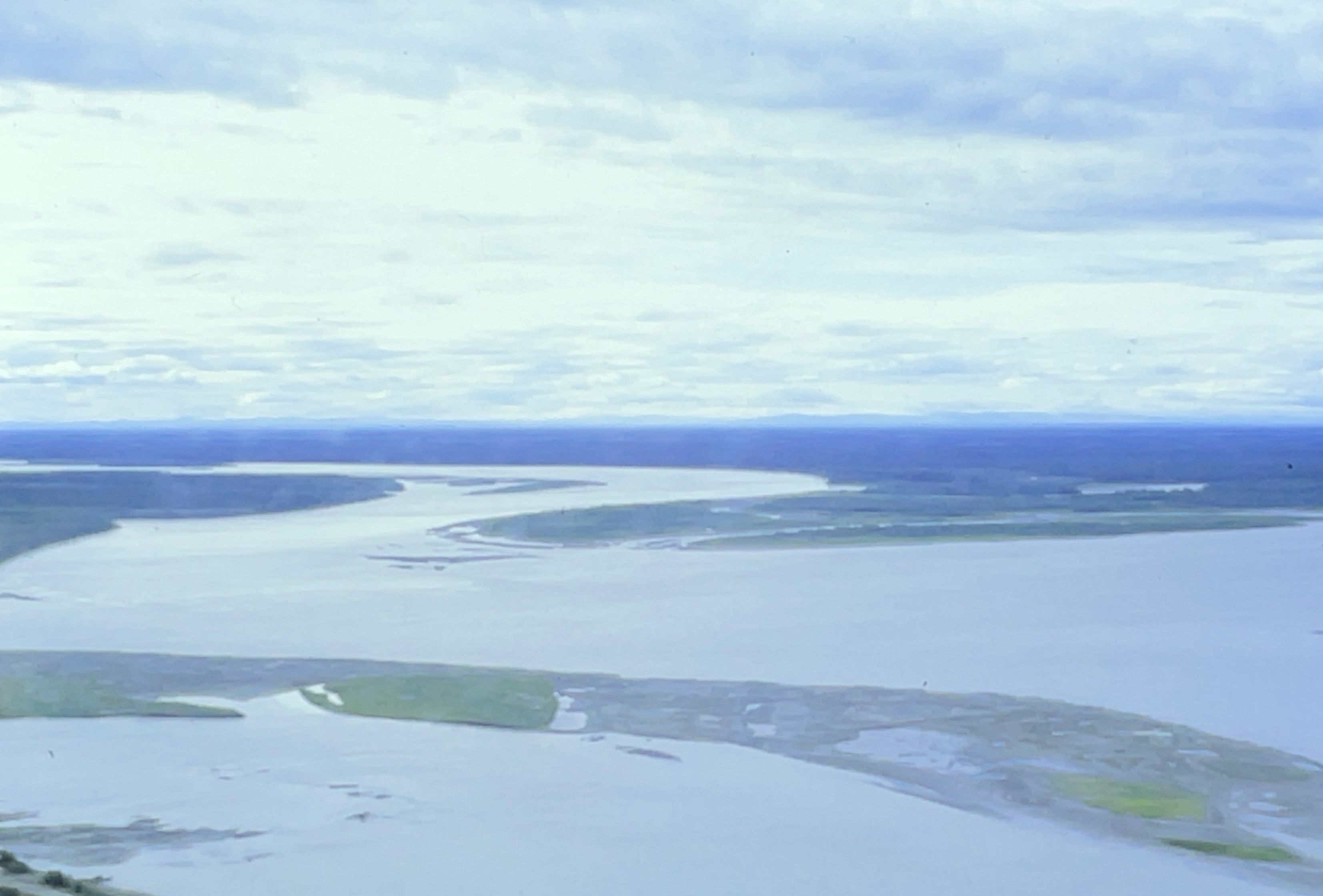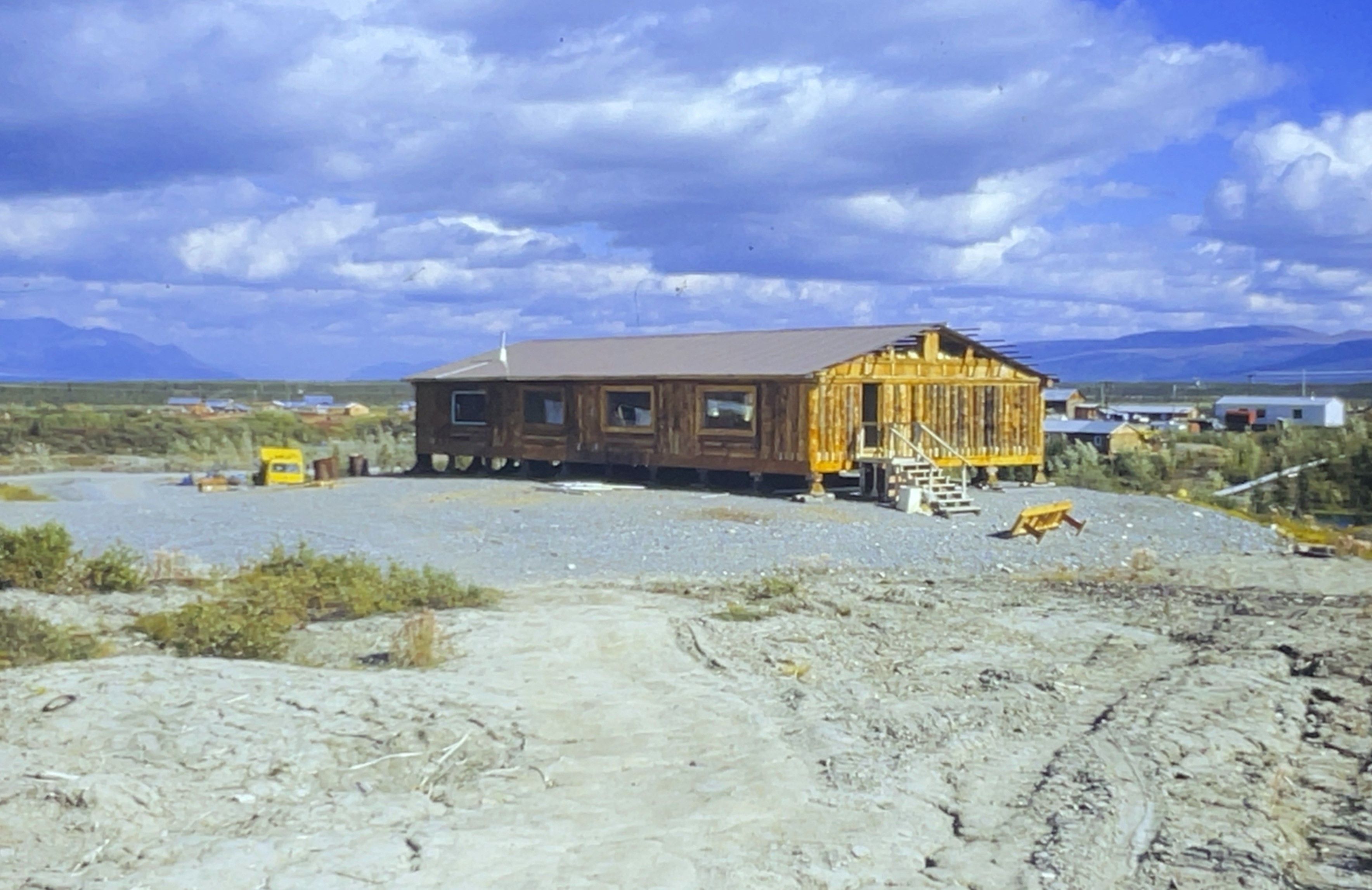 Arctic Village Community Hall
Upon our arrival, we were greeted by Gwich'in tribal members at the airport, eager to form alliances with the outside world in their campaign to save the Arctic Refuge from oil drilling.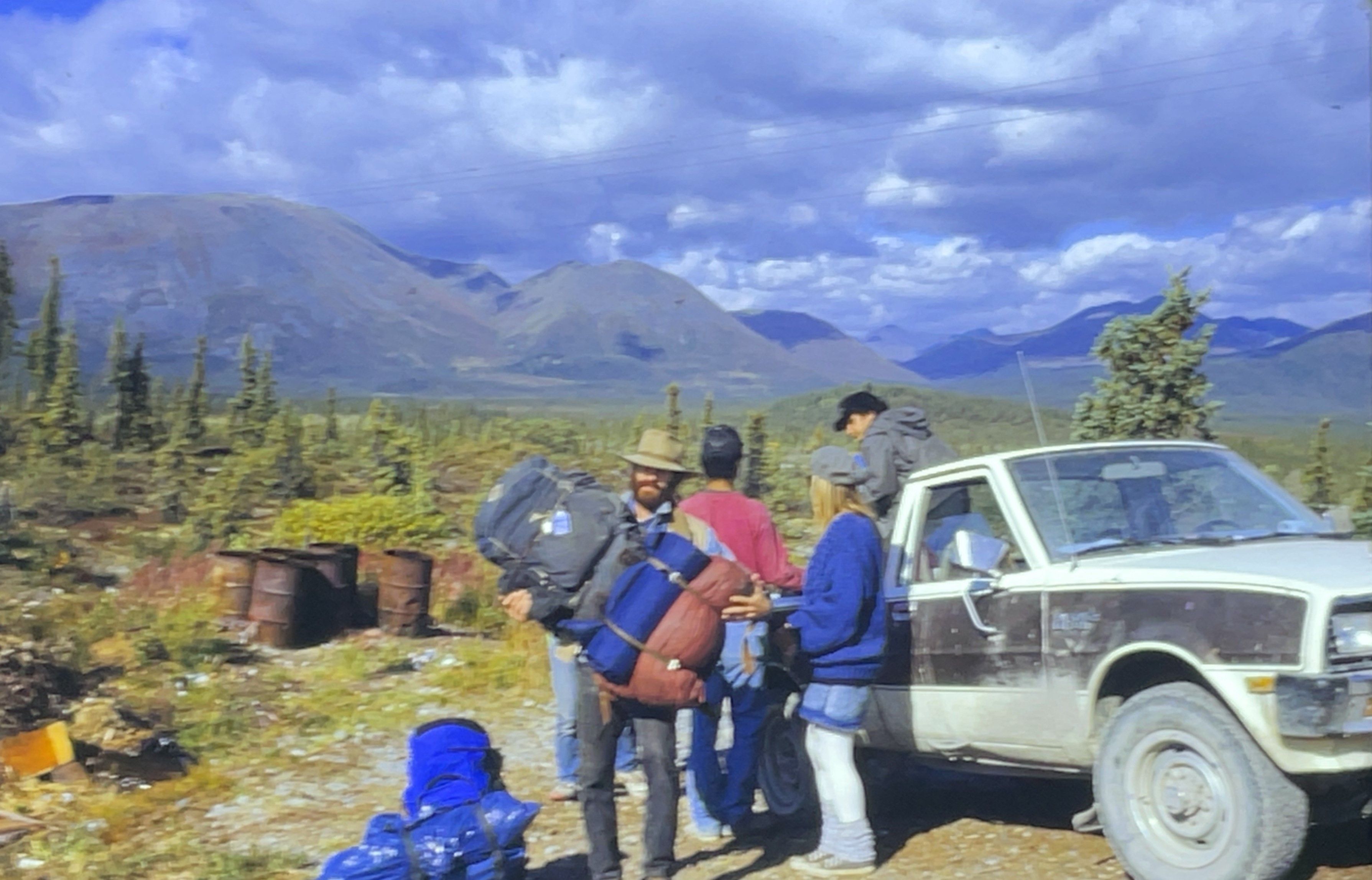 Sarah James was our host, and as she introduced us to people in the village and we felt as if we were being welcomed as family. The Gwich'in are the Caribou People and with the knowledge that the new film, Dances With Wolves had awakened deep anger over the genocide against the Lakota People, the Gwich'in rallying cry was:  The Buffalo Were Wiped Out but You Can Still Save the Caribou.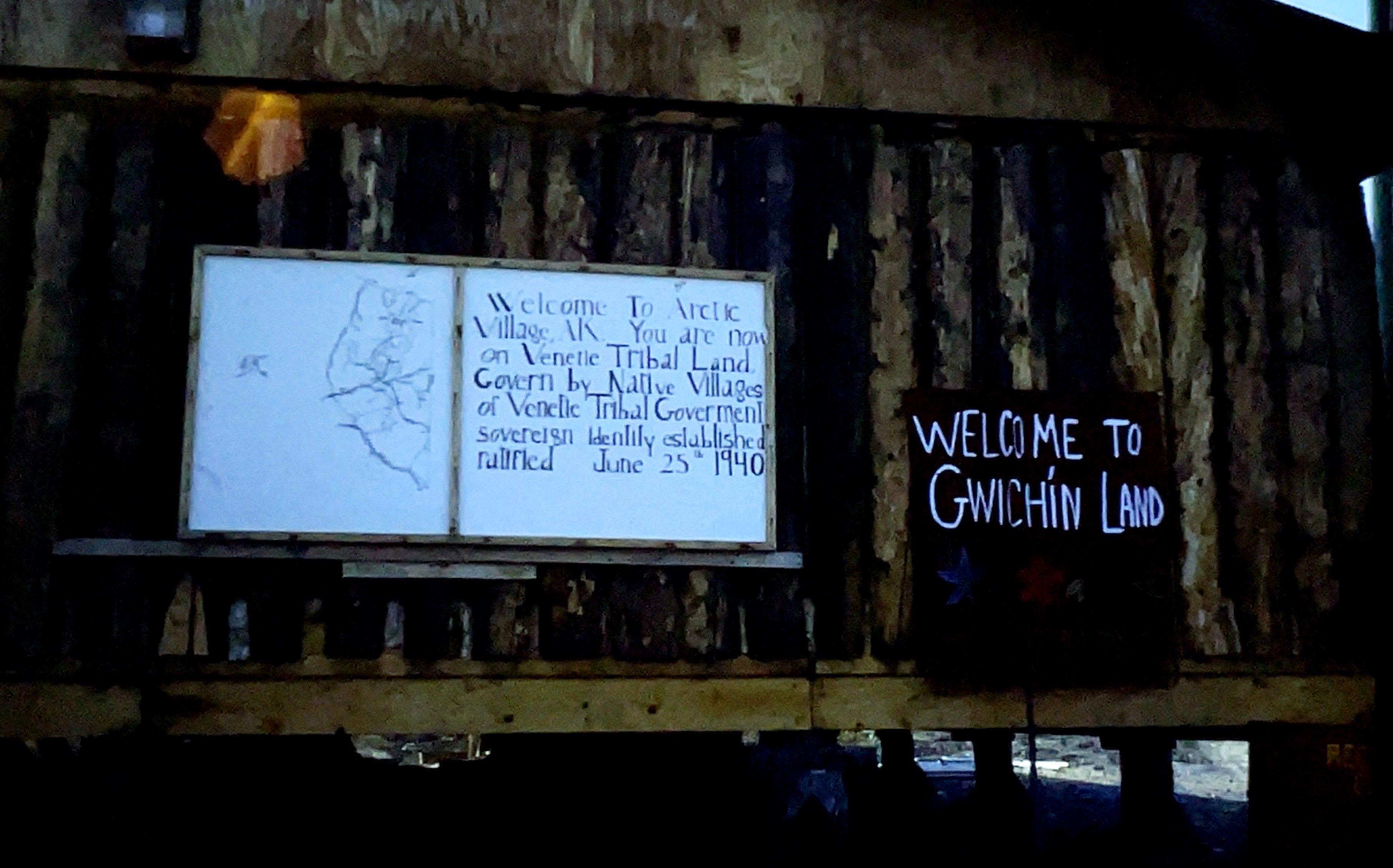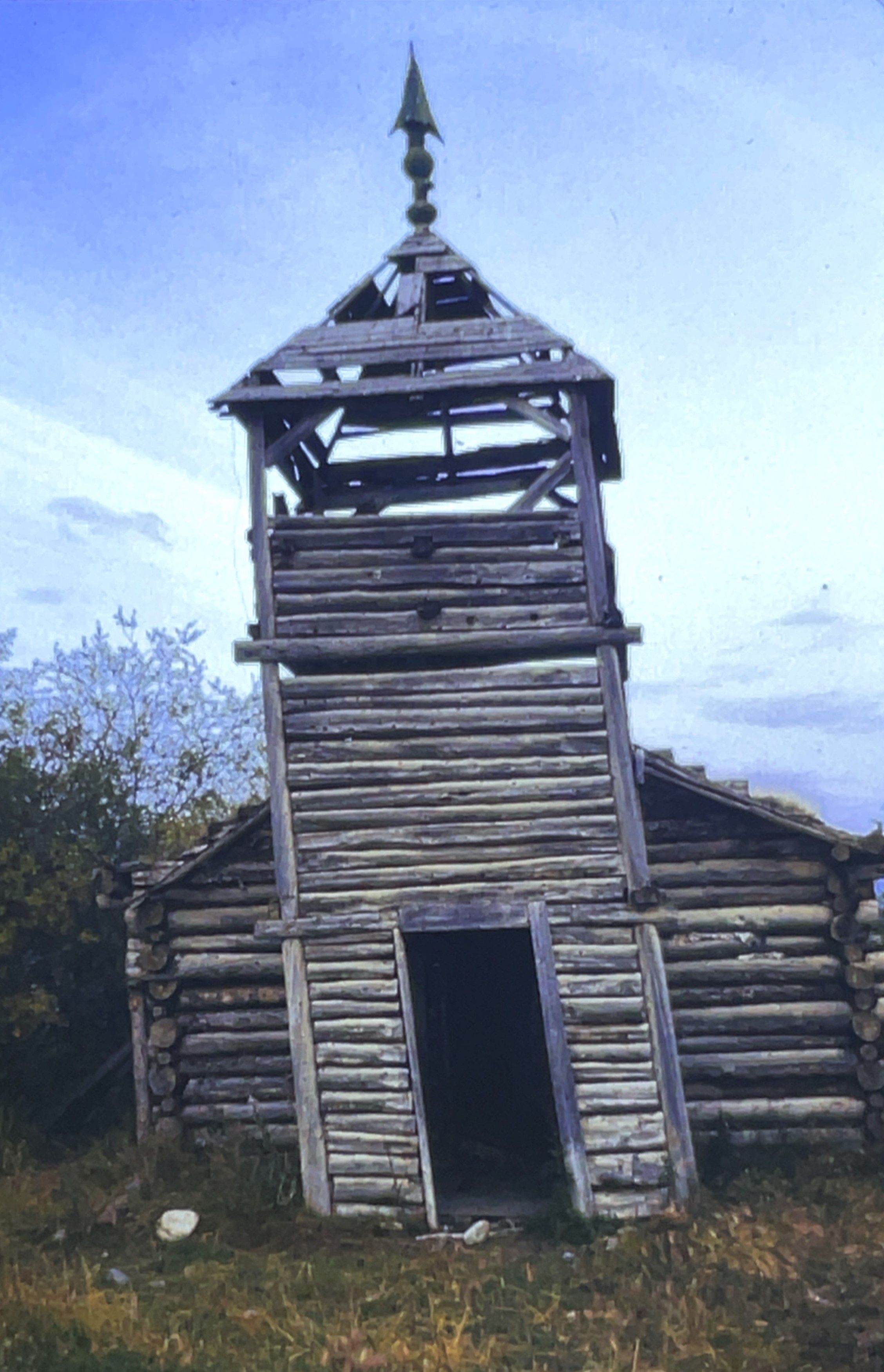 This is an old church building on the outskirts of Arctic Village.   
After we had set up our tents outside of Sarah James's cabin, we wandered over to the community hall to celebrate a birthday, and have a concert with the legendary, Arctic Village band who absolutely shredded!  They covered everything from Creedence Clearwater Revival to Led Zeppelin!  We were also treated to some great fiddle music and shared some of our songs as well.   It's an understatement to say that we all bonded deeply.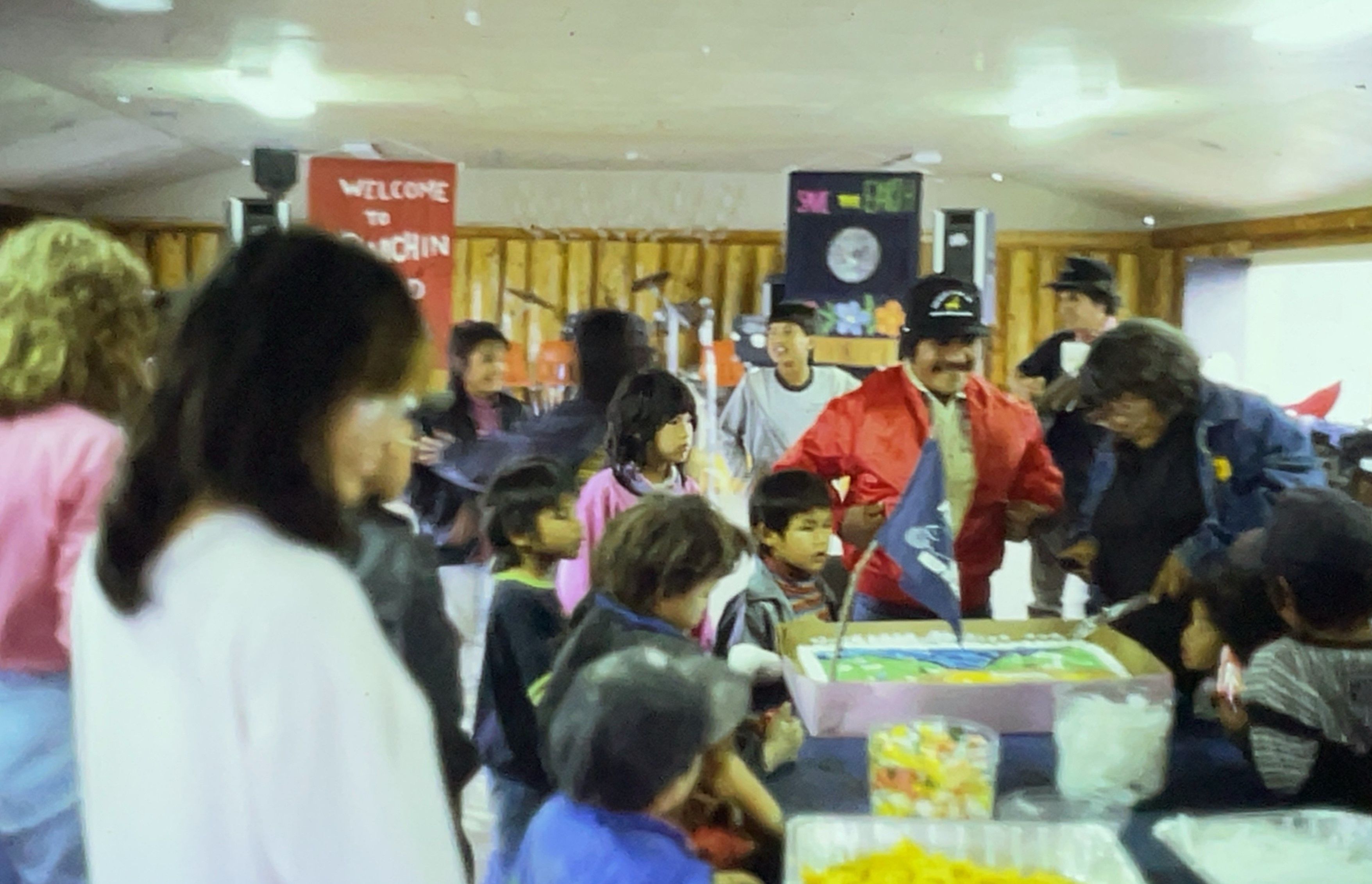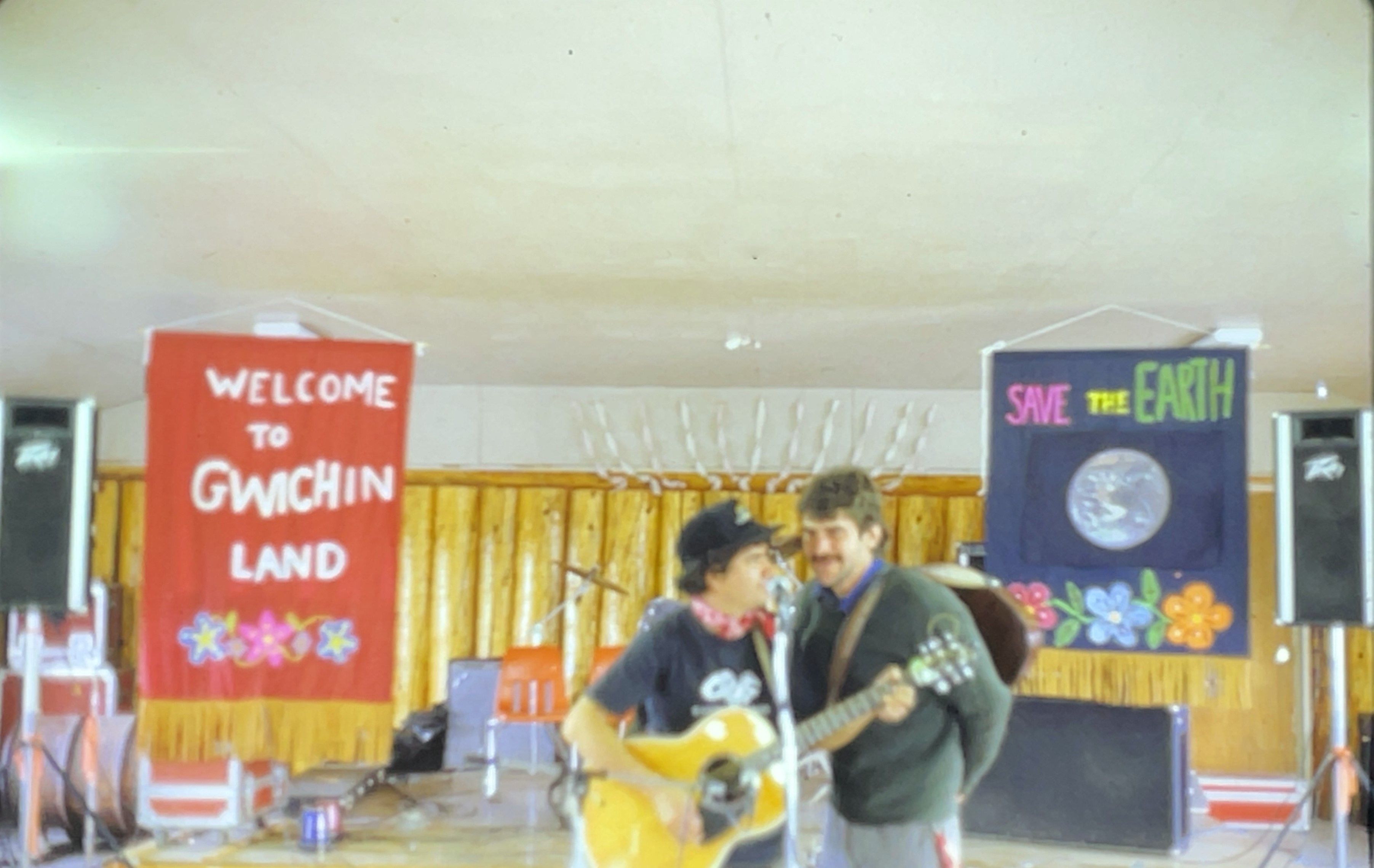 Then we heard the elders speak of their struggle.  After the devastating Exxon Valdez oil spill had occurred a couple years prior, the Gwich'in came together in a historical gathering where they determined that the only way to save their traditional lands from greedy oil companies and politicians was to tell the world their story.  Sarah James was chosen to speak on behalf of her tribe and this would take her from her her beautiful cabin in Northern Alaska to the halls of Congress, and eventually all the way to the United Nations.  To this day, she travels the world, working tirelessly on behalf of her land and people.  The threat to the Gwich'in way of life is as real now as it's ever been.   
During the two weeks we spent up there, we were shown the country in a way I never could have imagined.  First, they took us forty miles up the East Fork of the Chandalar by boat to a traditional hunting camp.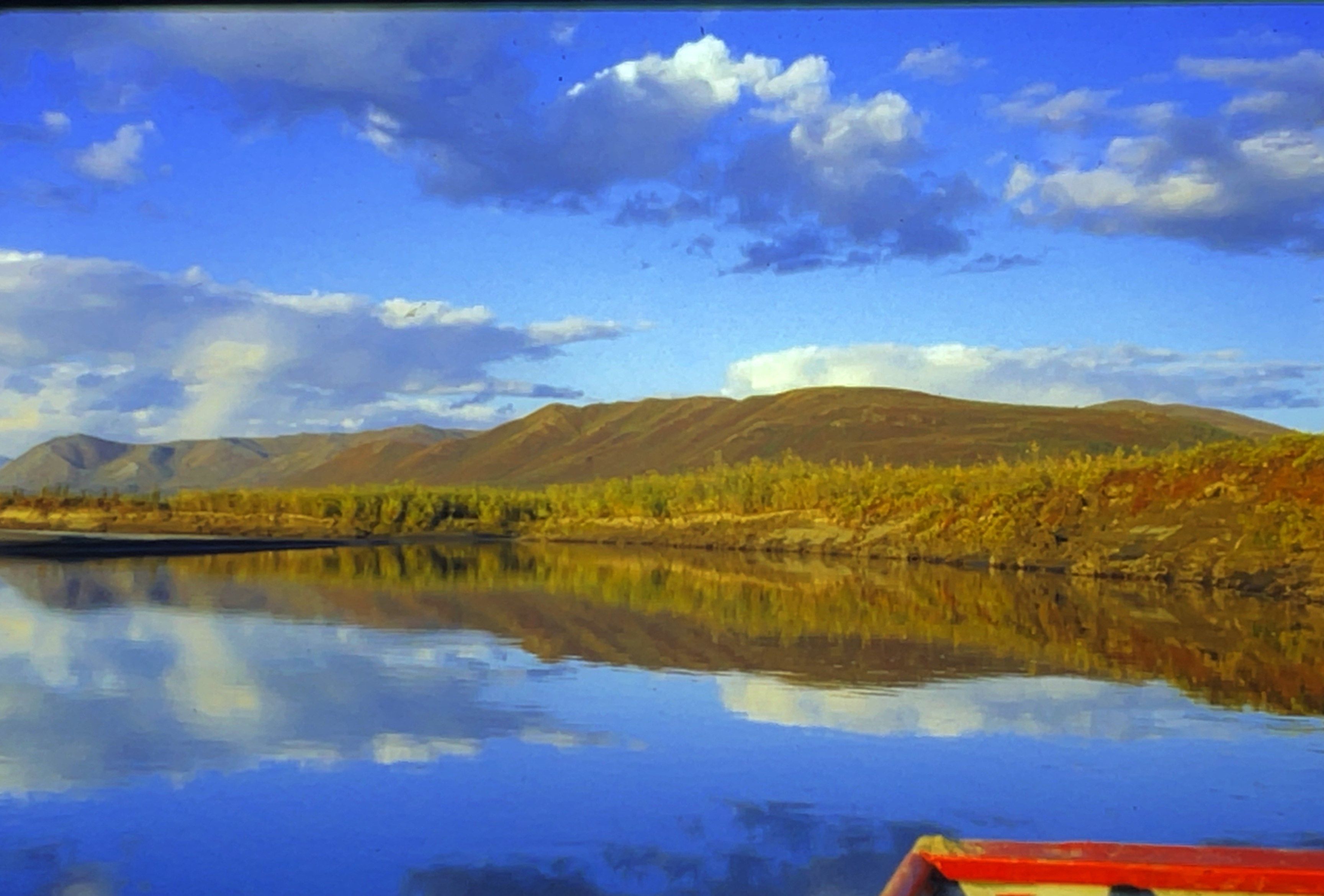 One of the most beautiful boat rides of my life.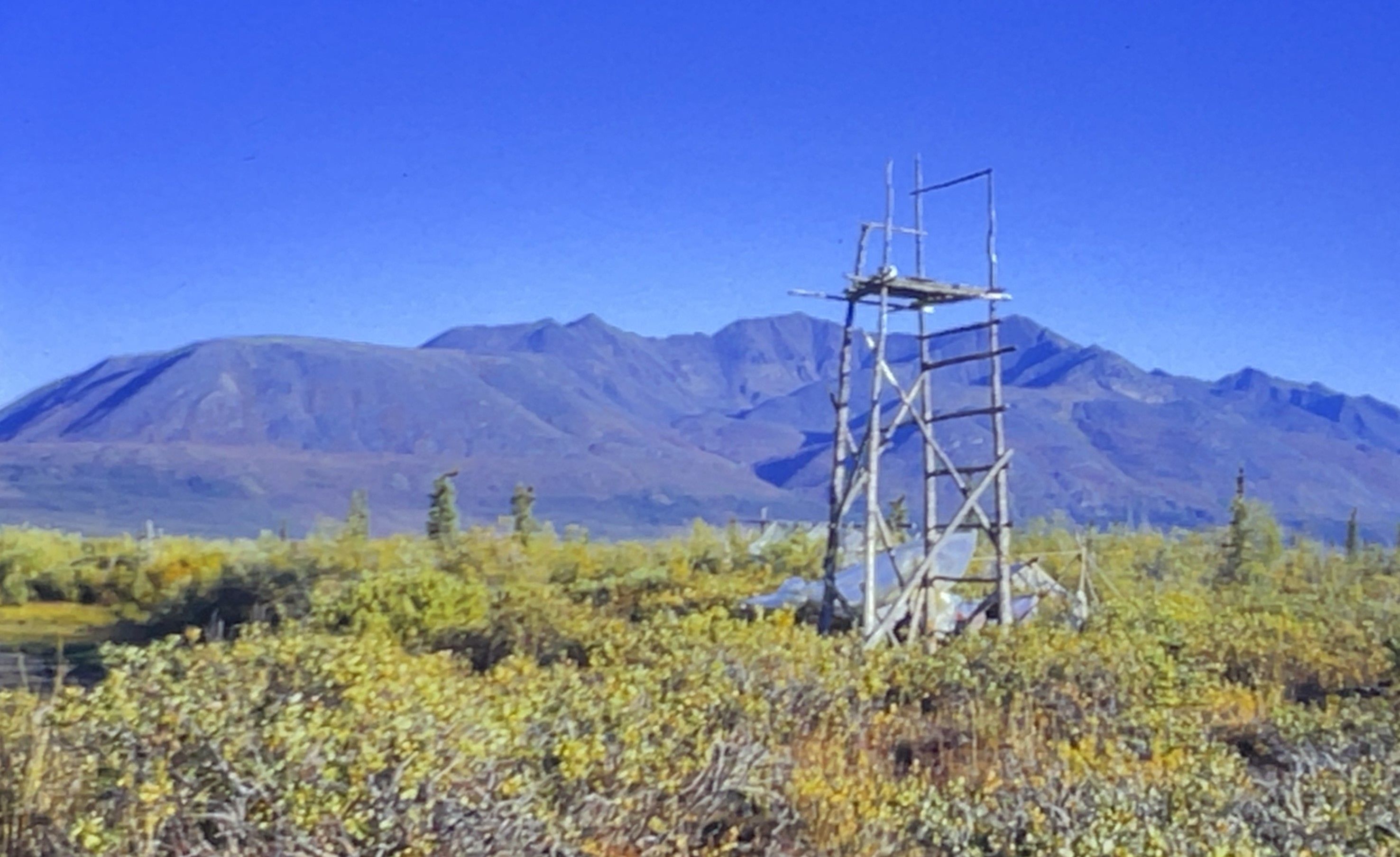 Traditional Gwich'in Hunting Scaffold. 
There we spent a few days listening to stories from the elders, and wandering the surreal, velvety ridges above the valley.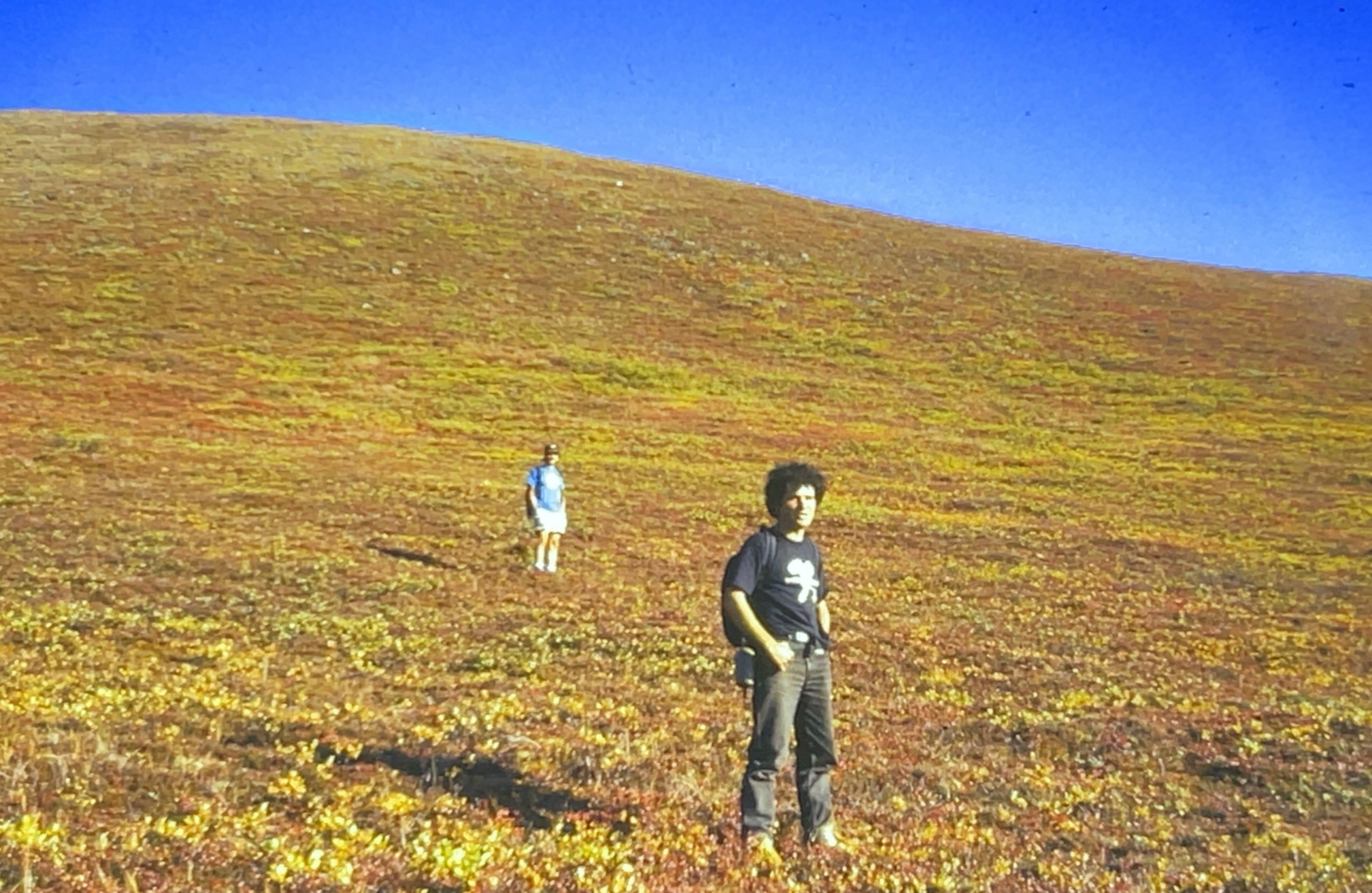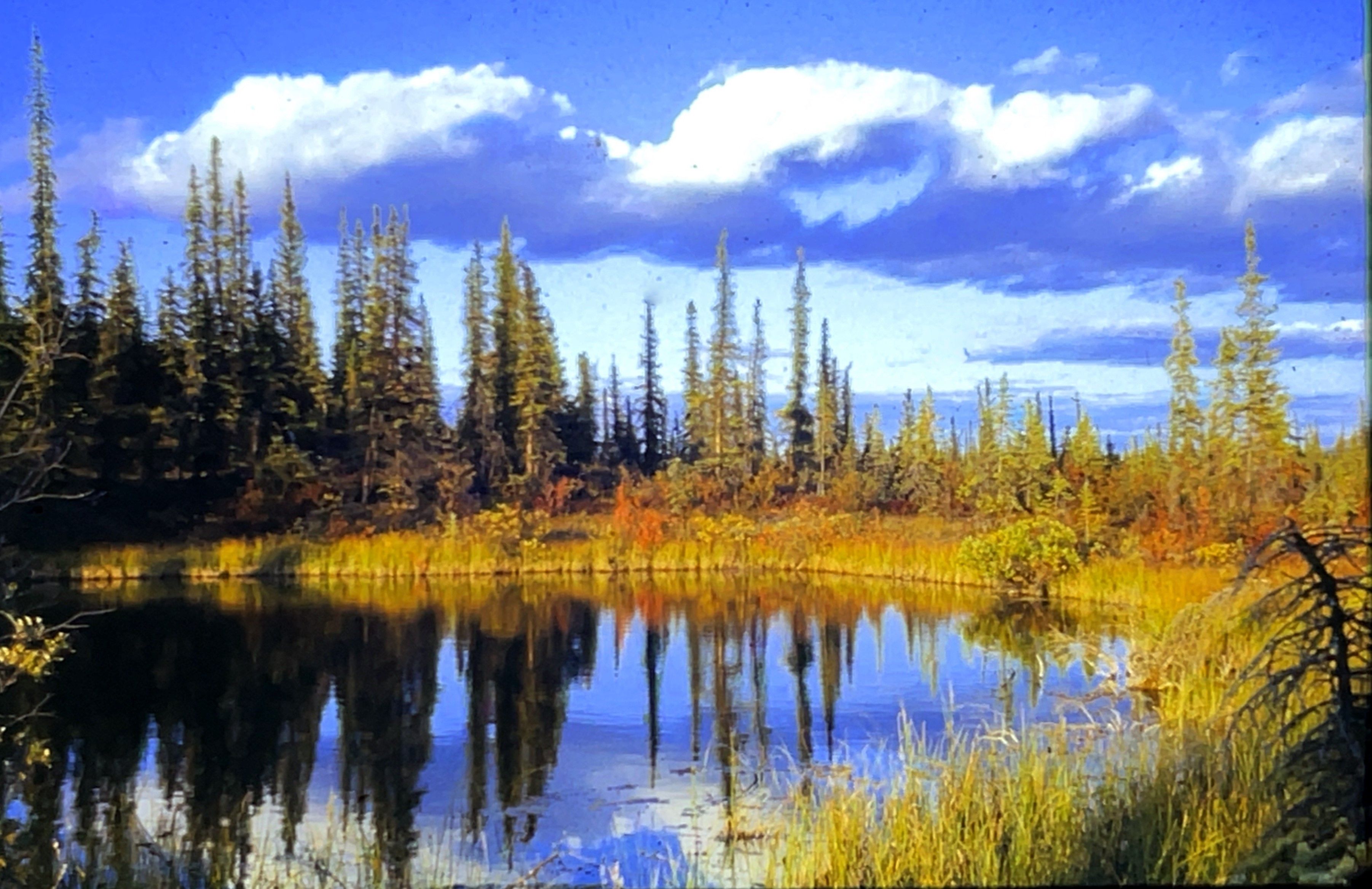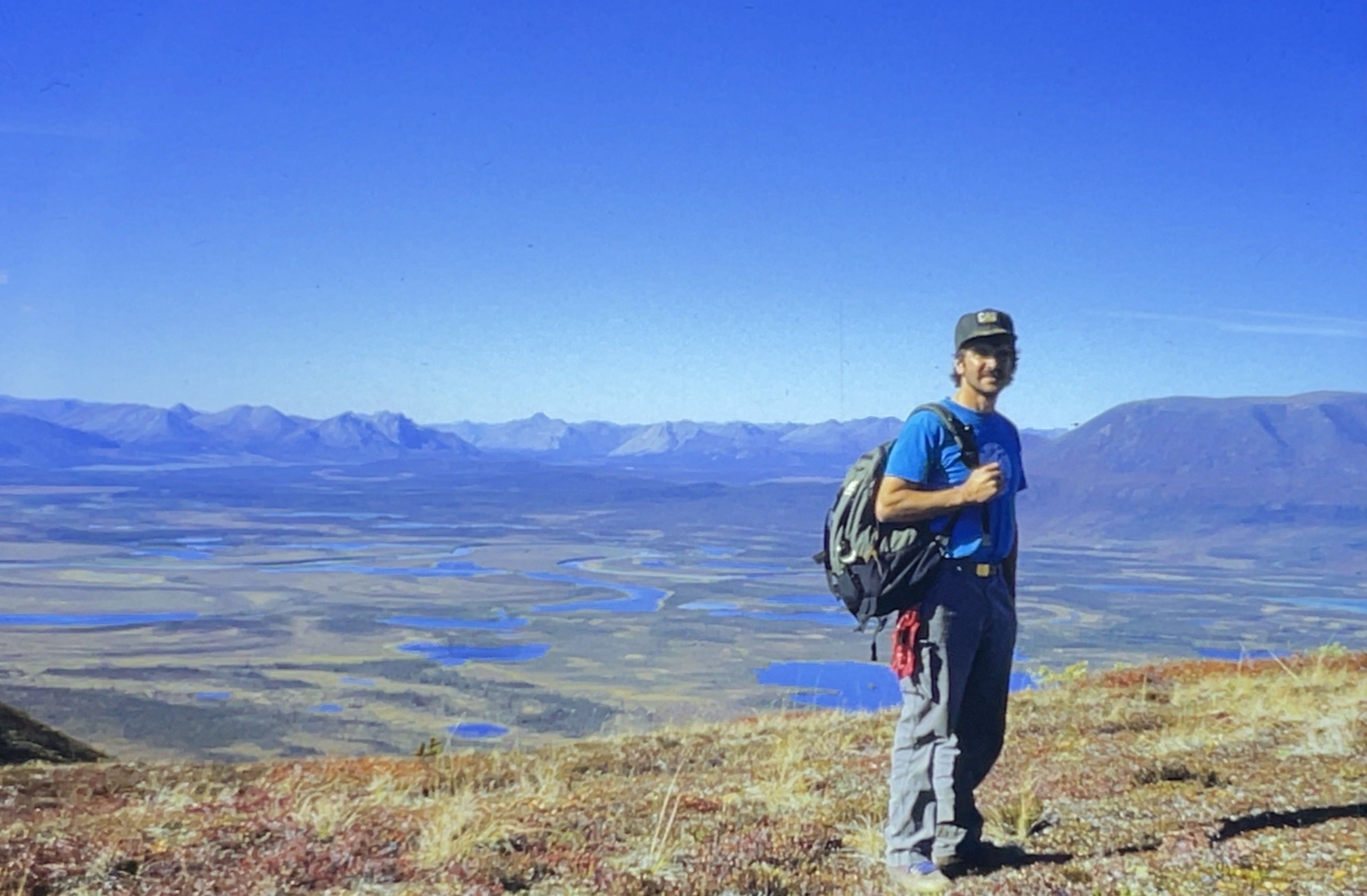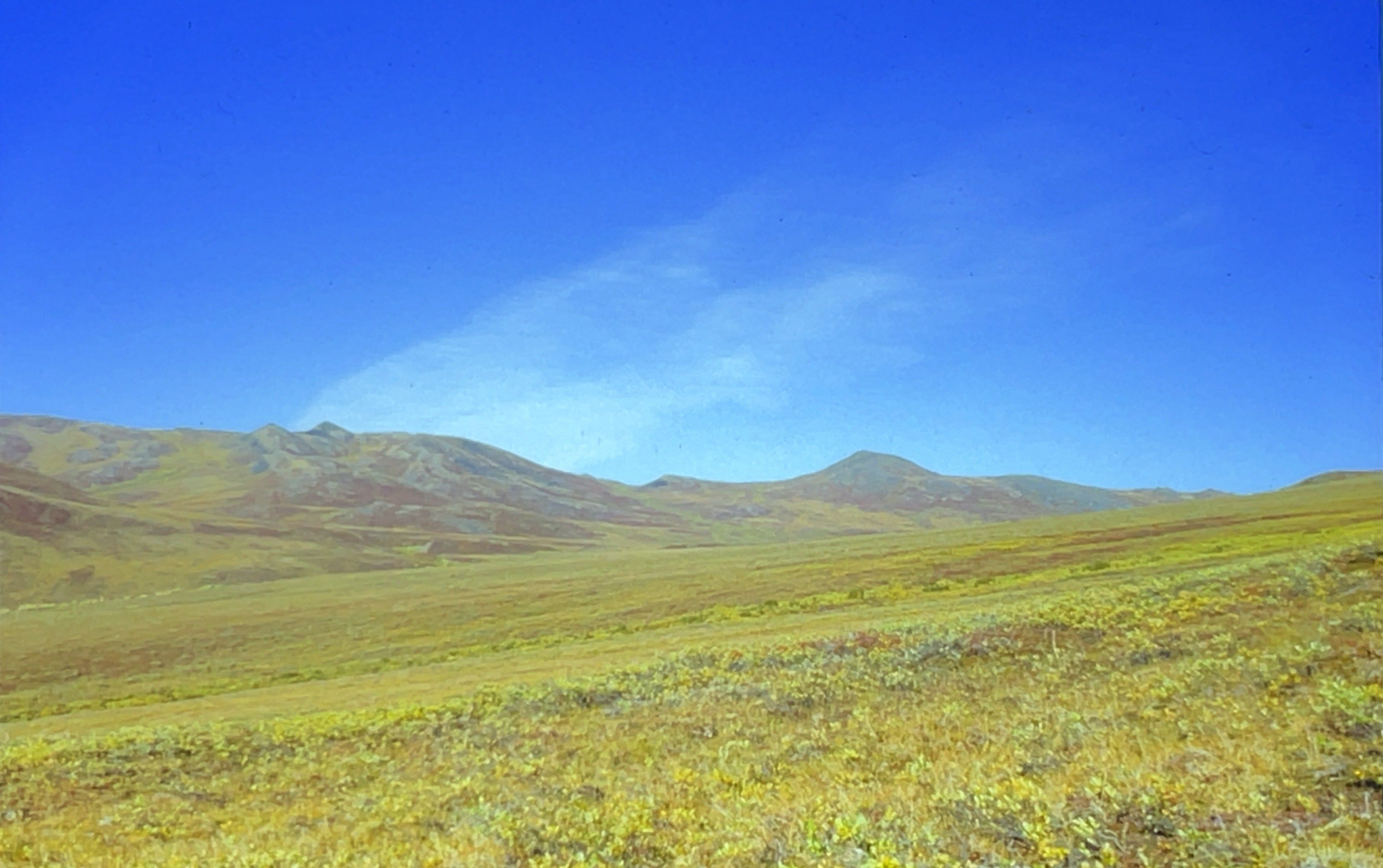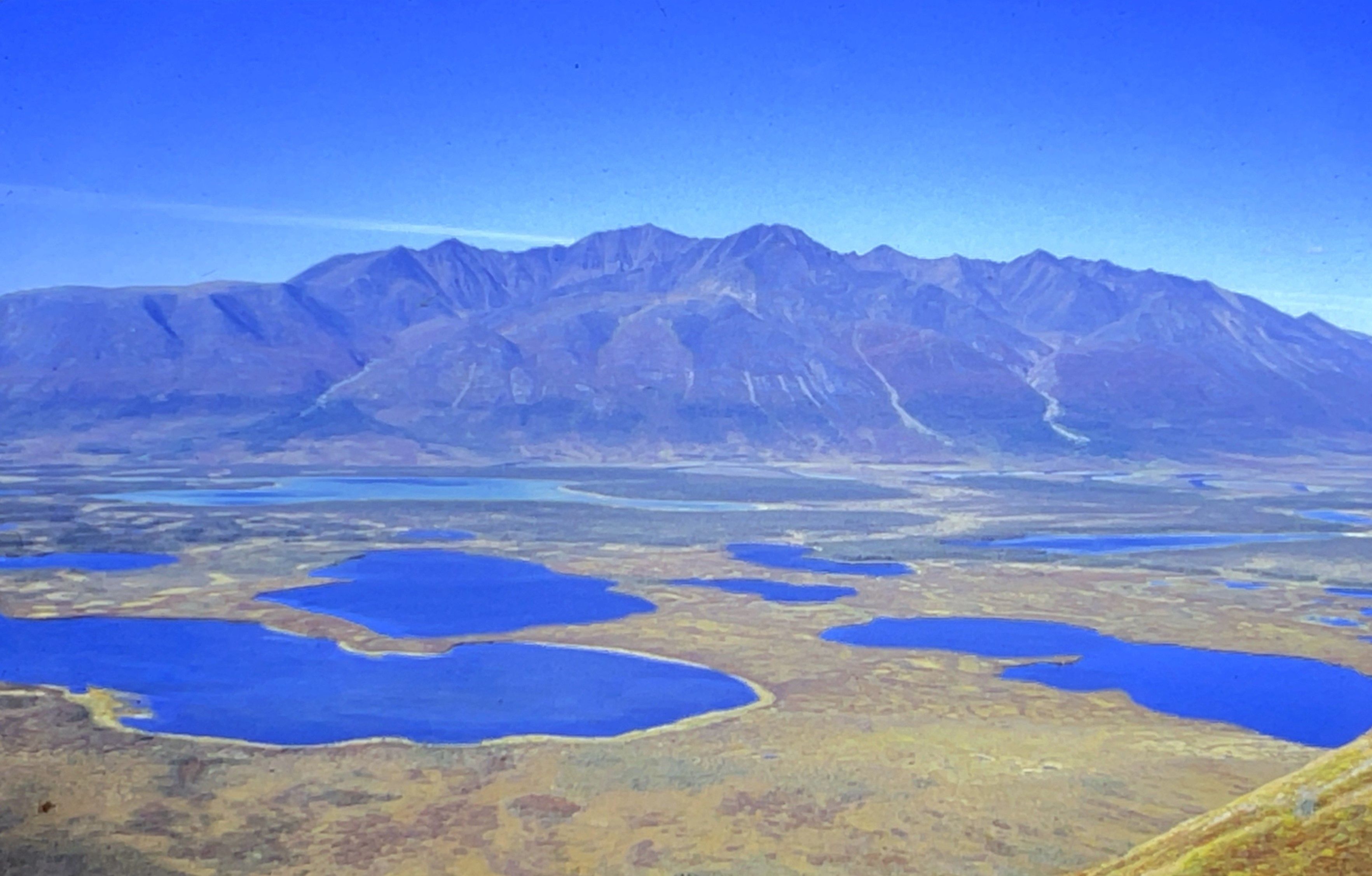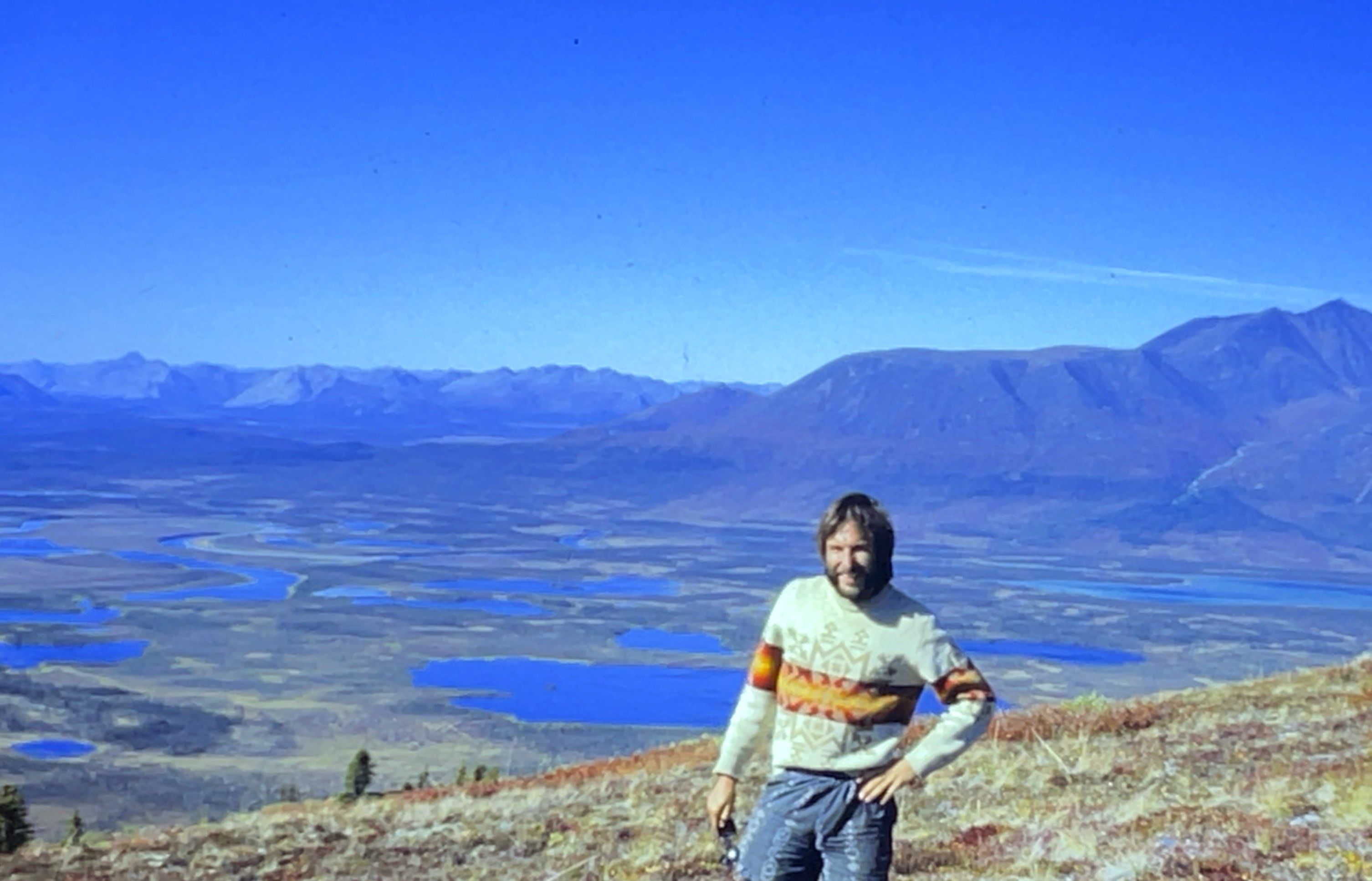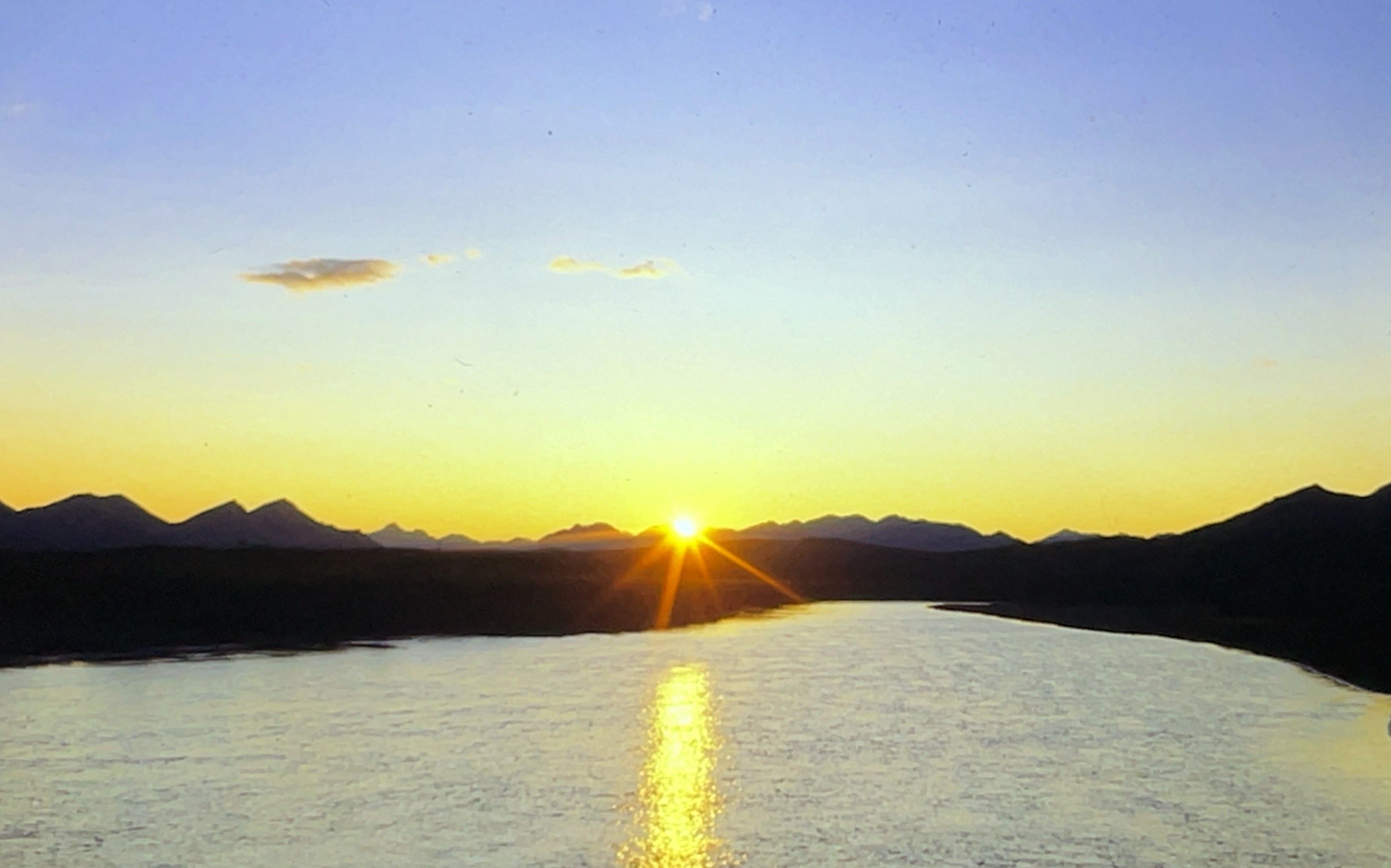 It was late August, and was still well past 11:00 PM before the sun began to sink over the northern horizon.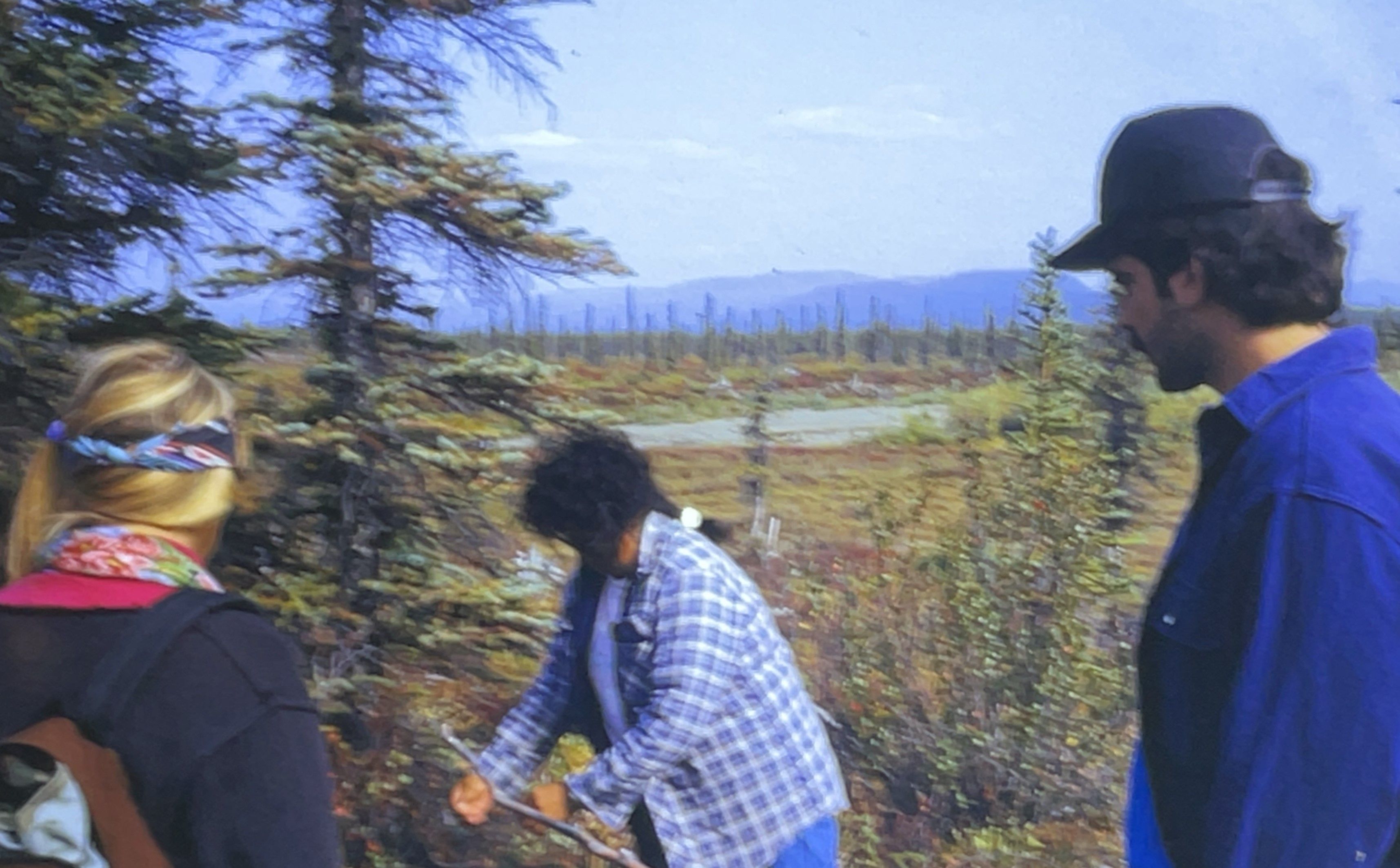 We learned the traditional ways of drying and preserving meat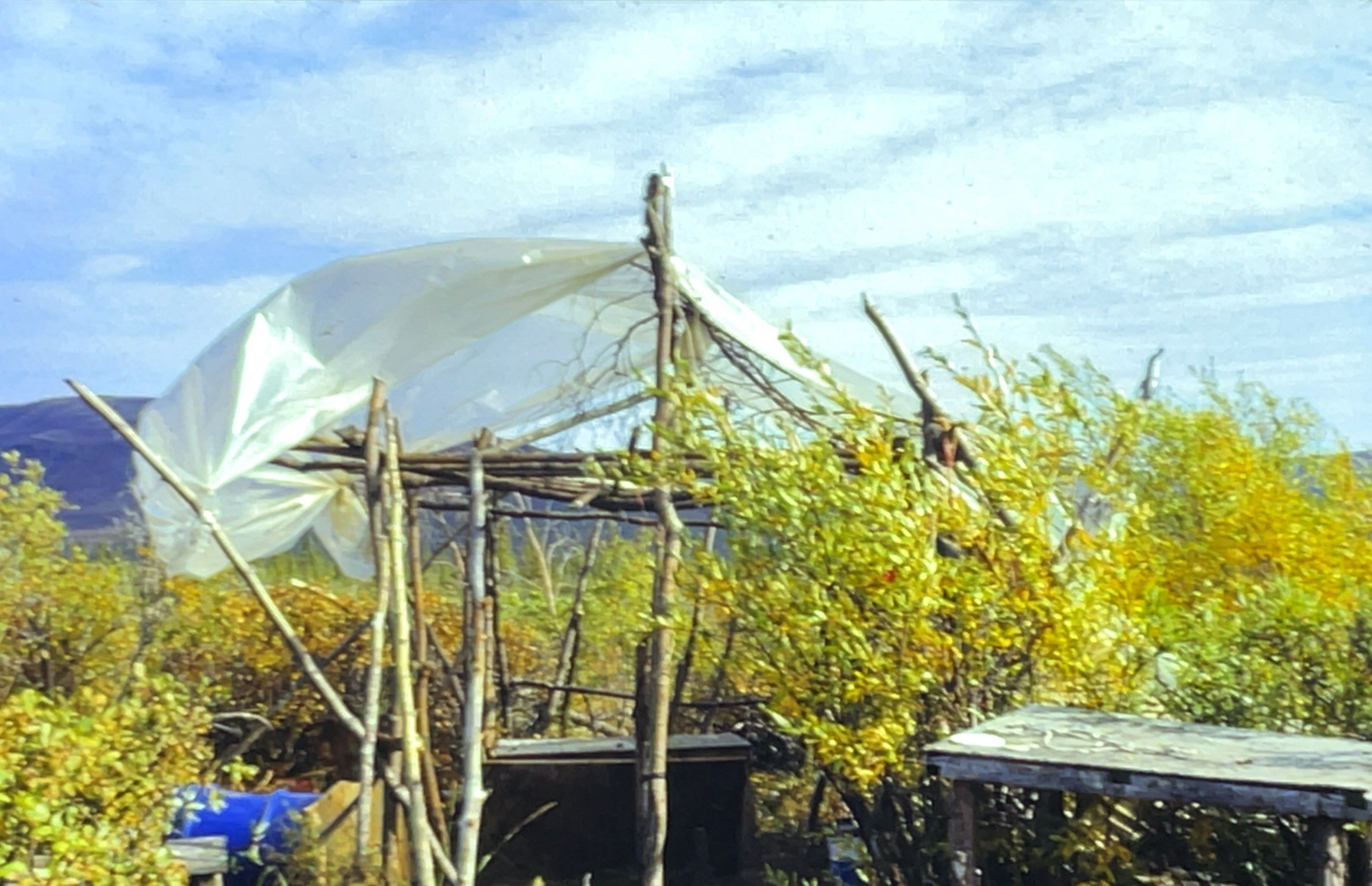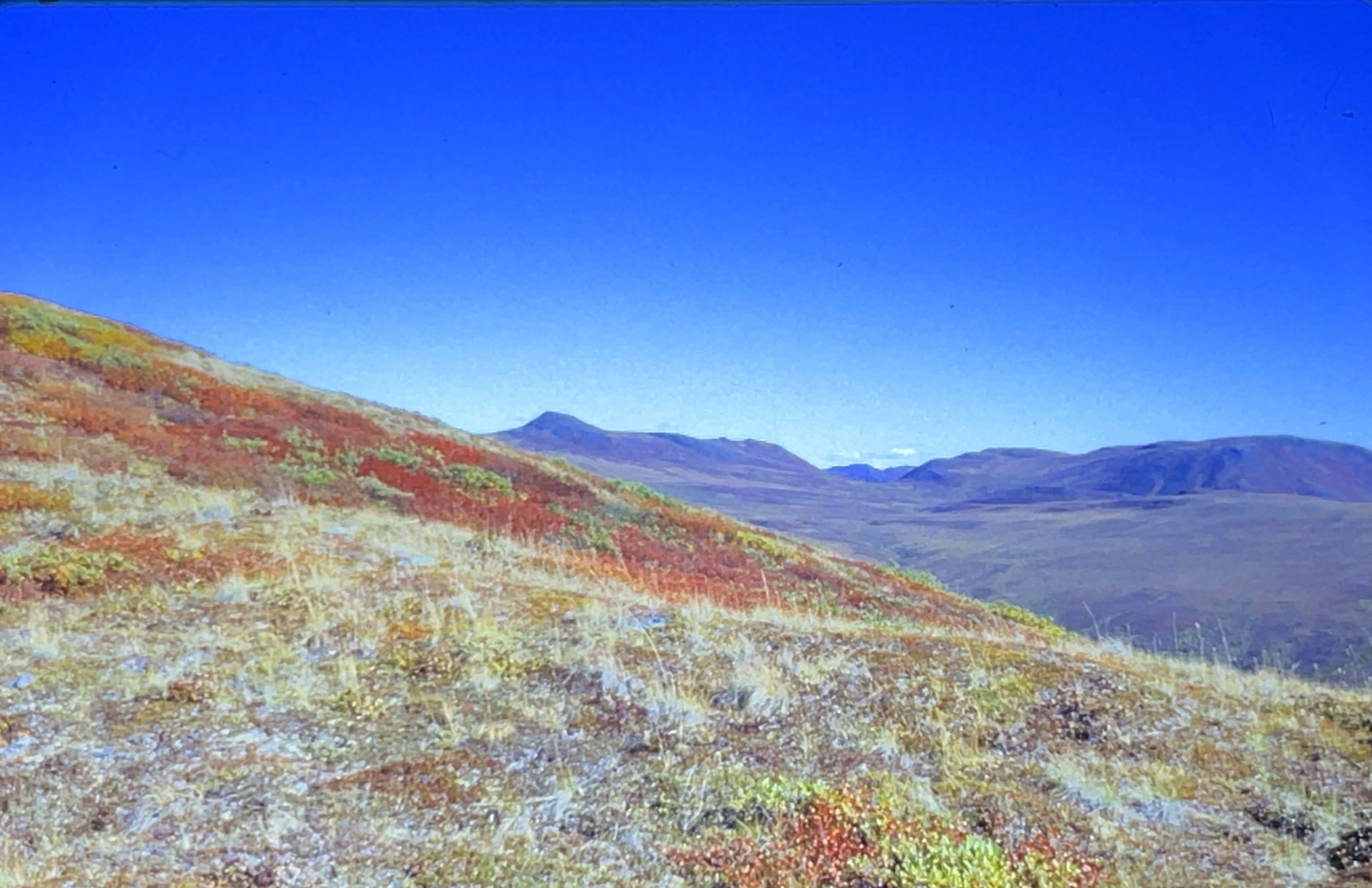 Toward the end of our stay, Dana Lyons, Sarah James, Sam Spidel, and I were given a boat ride across the river where we then backpacked fifteen miles into the arctic wilderness.  As we wound our way up a small creek, we noticed every sand bar was pounded with grizzly, caribou, wolf, and moose tracks.  We were following a major wildlife corridor.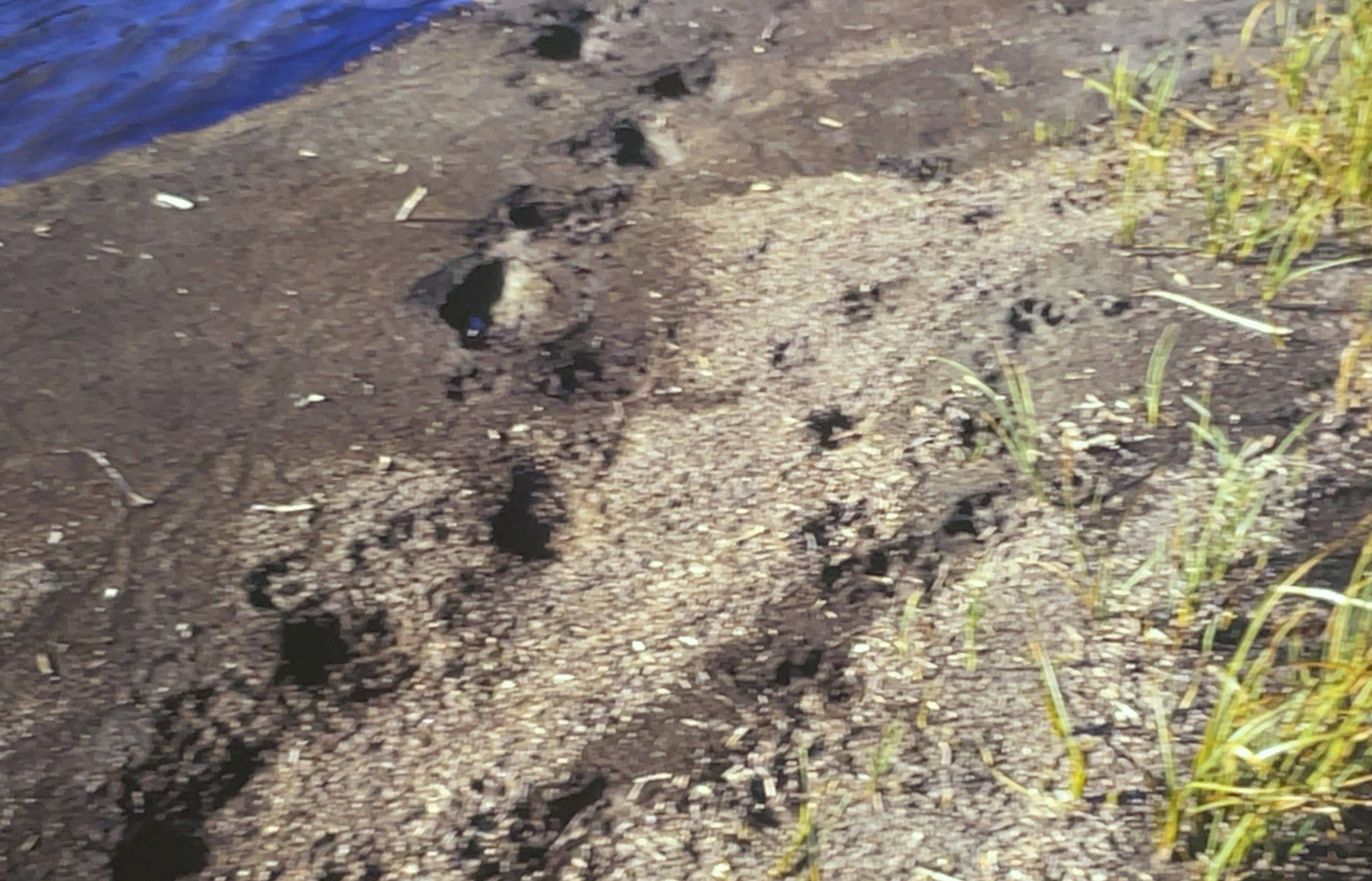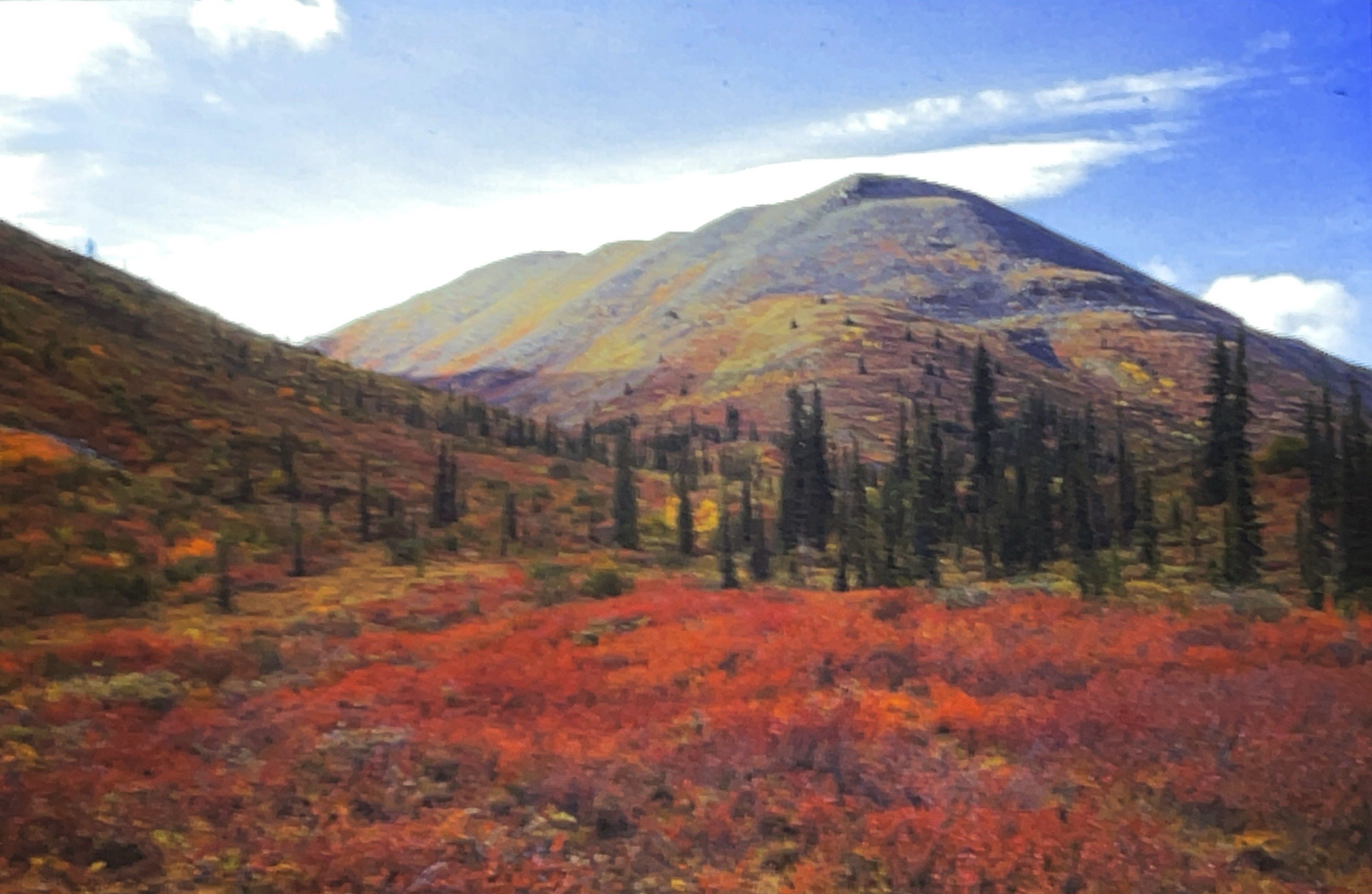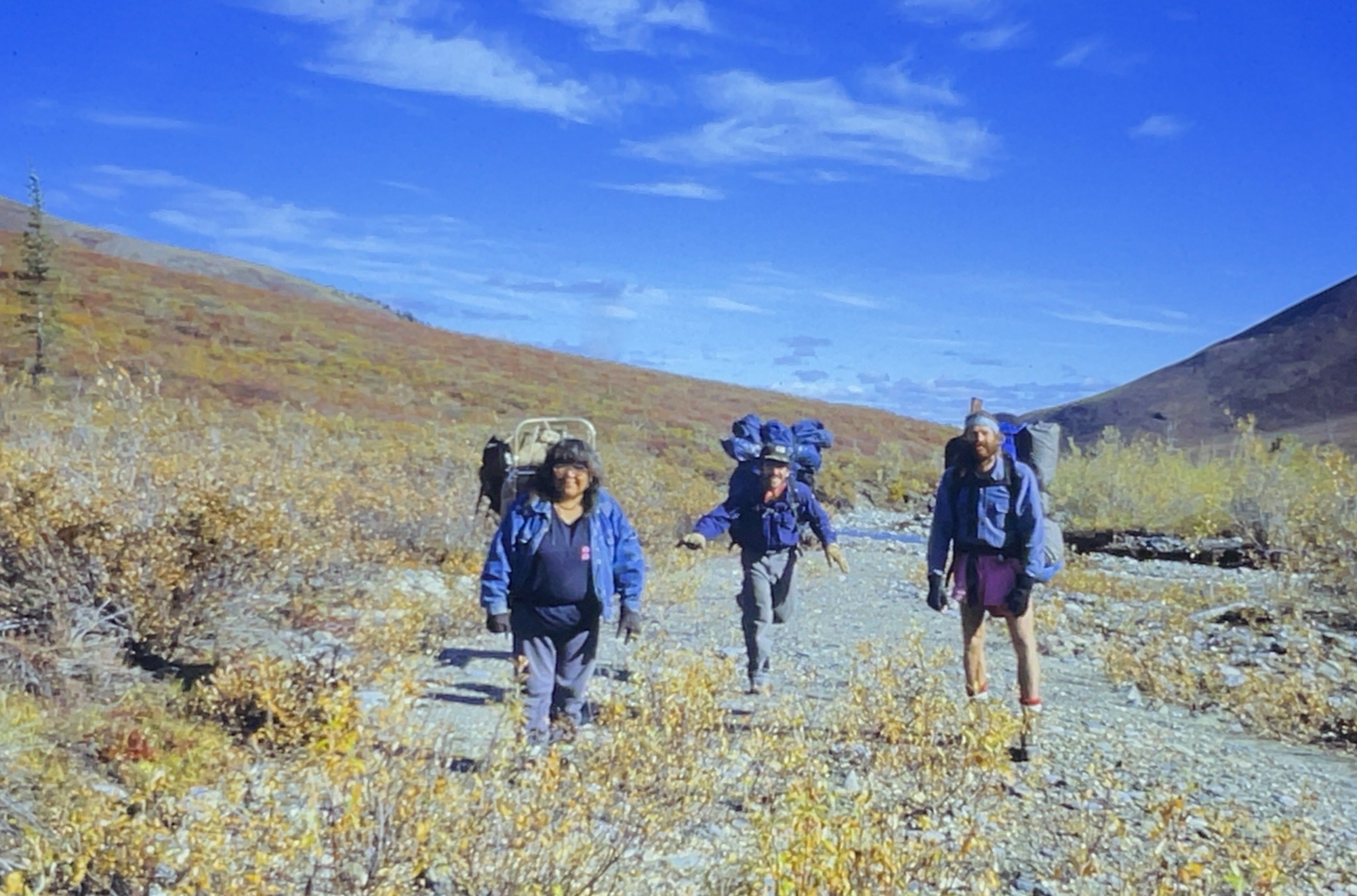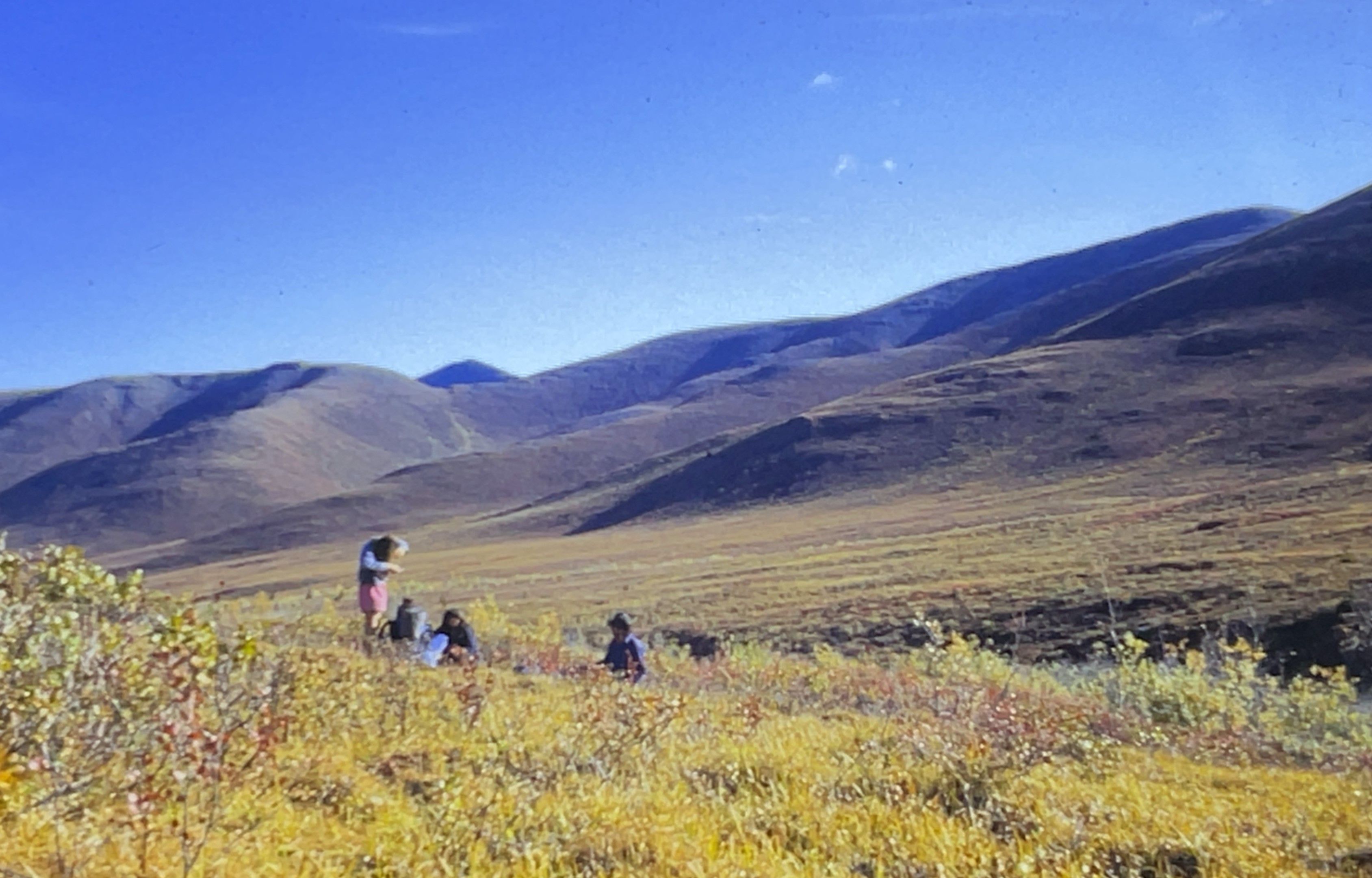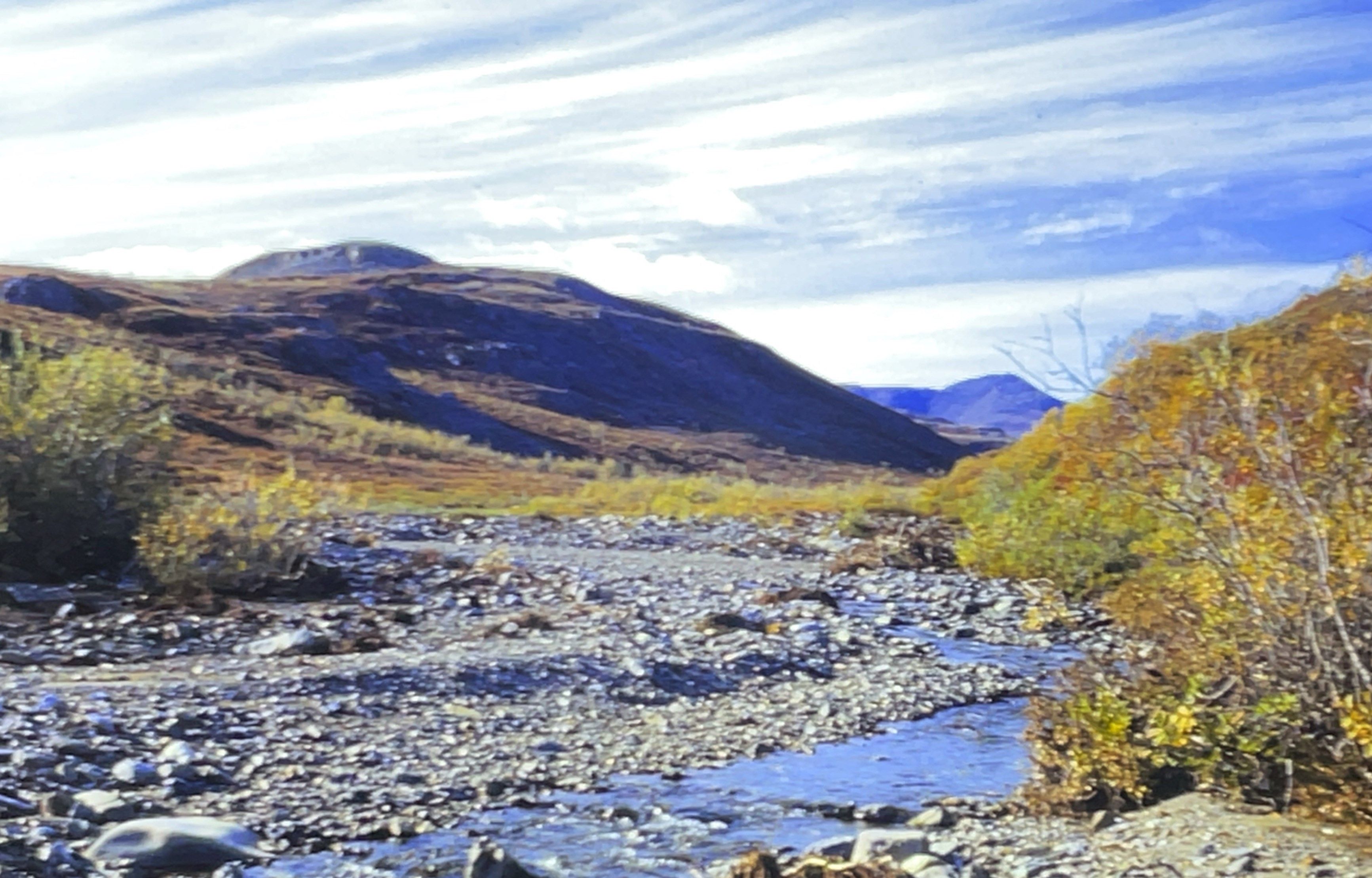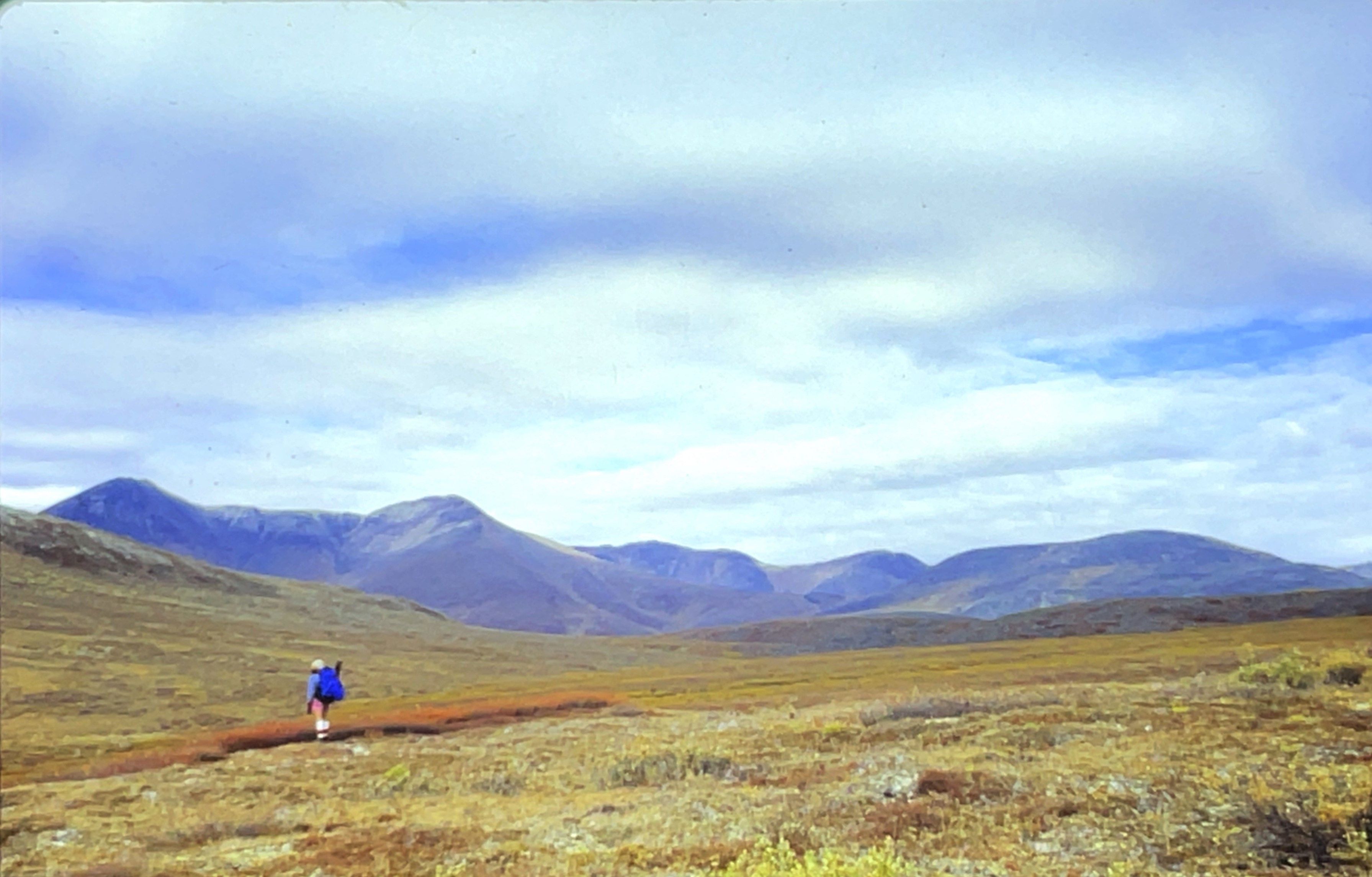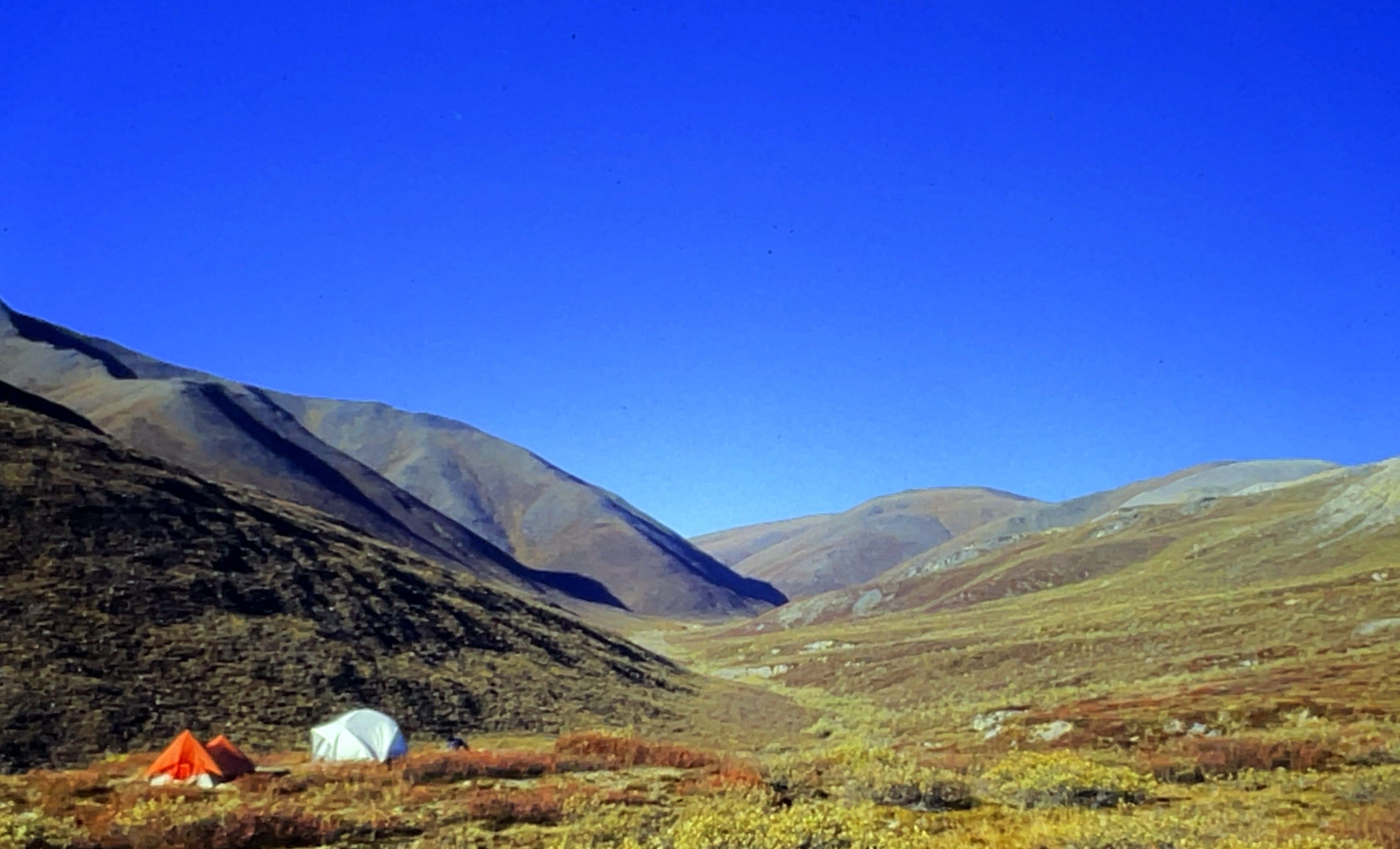 Finally, we came upon a perfect camping spot in a treeless basin and spent a couple of days drinking in the silence of the Arctic wilderness.   From a ridge just above our camp, we bore witness to perhaps the most stunning vista I've witnessed in my life.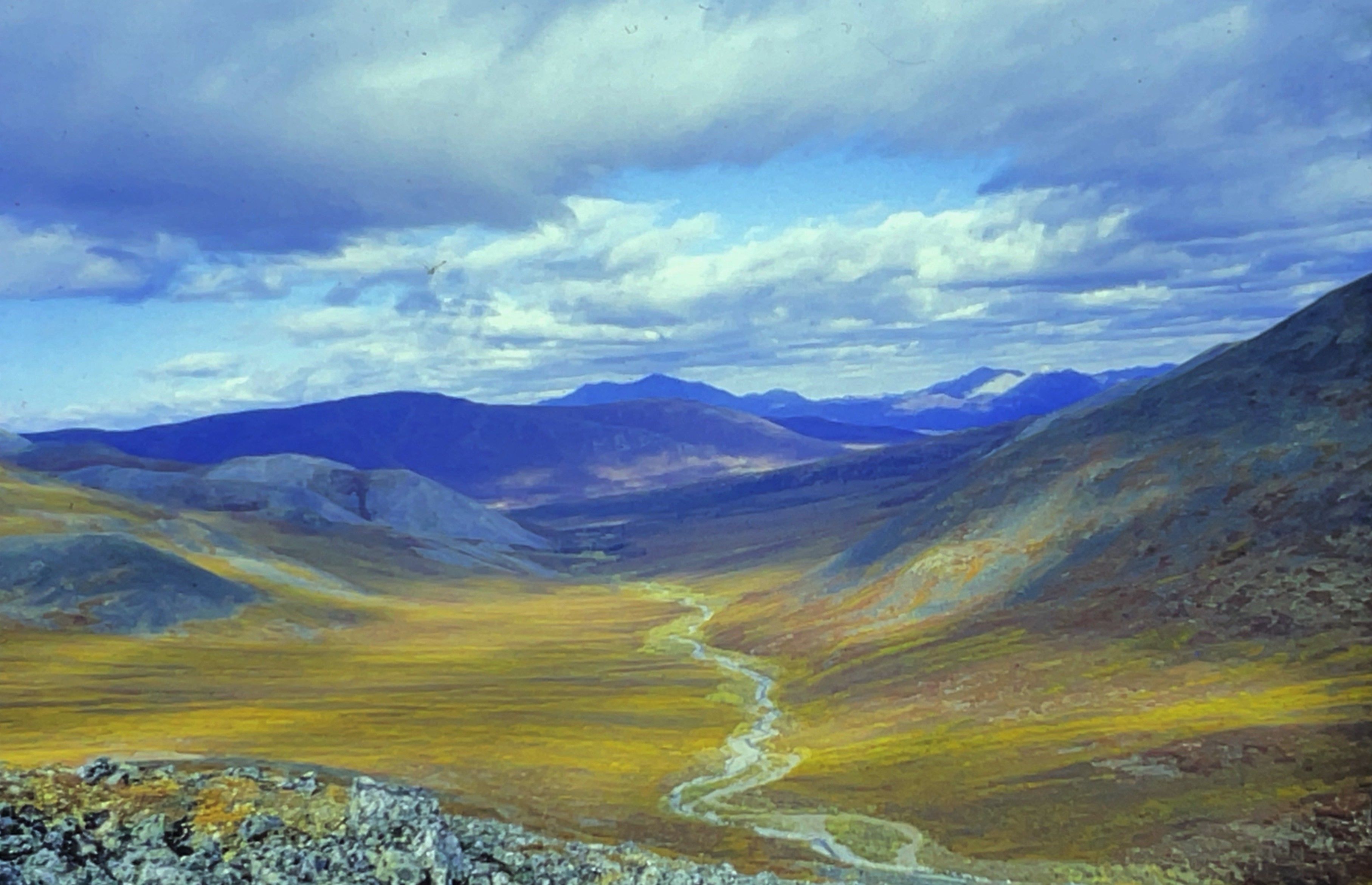 The Arctic wilderness is vast and silent.  It's a place unlike any other I have ever seen.  
One evening Dana and I left camp and climbed a ridge.  As we neared the top, we came across a large grizzly bear grazing on blueberries in peace.  Its head swung up and it fixed its eyes on us for a long moment.  The thrill and fear was indescribable.  Then, it resumed feeding.  While this picture is out of focus and dark, this is what it looked like without a telephoto lens.  It was much closer than the black dot appears in the picture: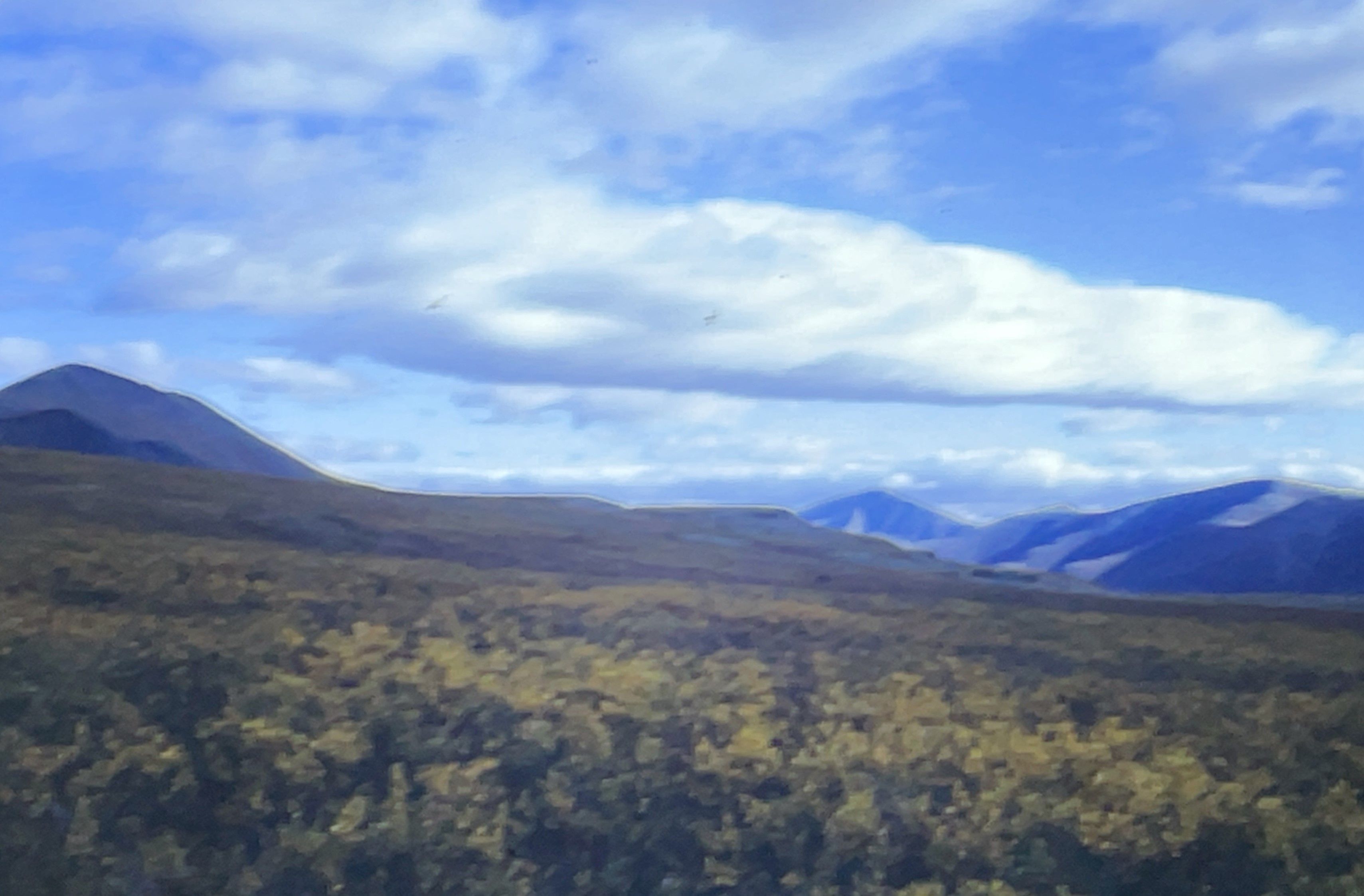 In the days following, we would wake up to dozens of caribou walking through our camp as if we were not even there.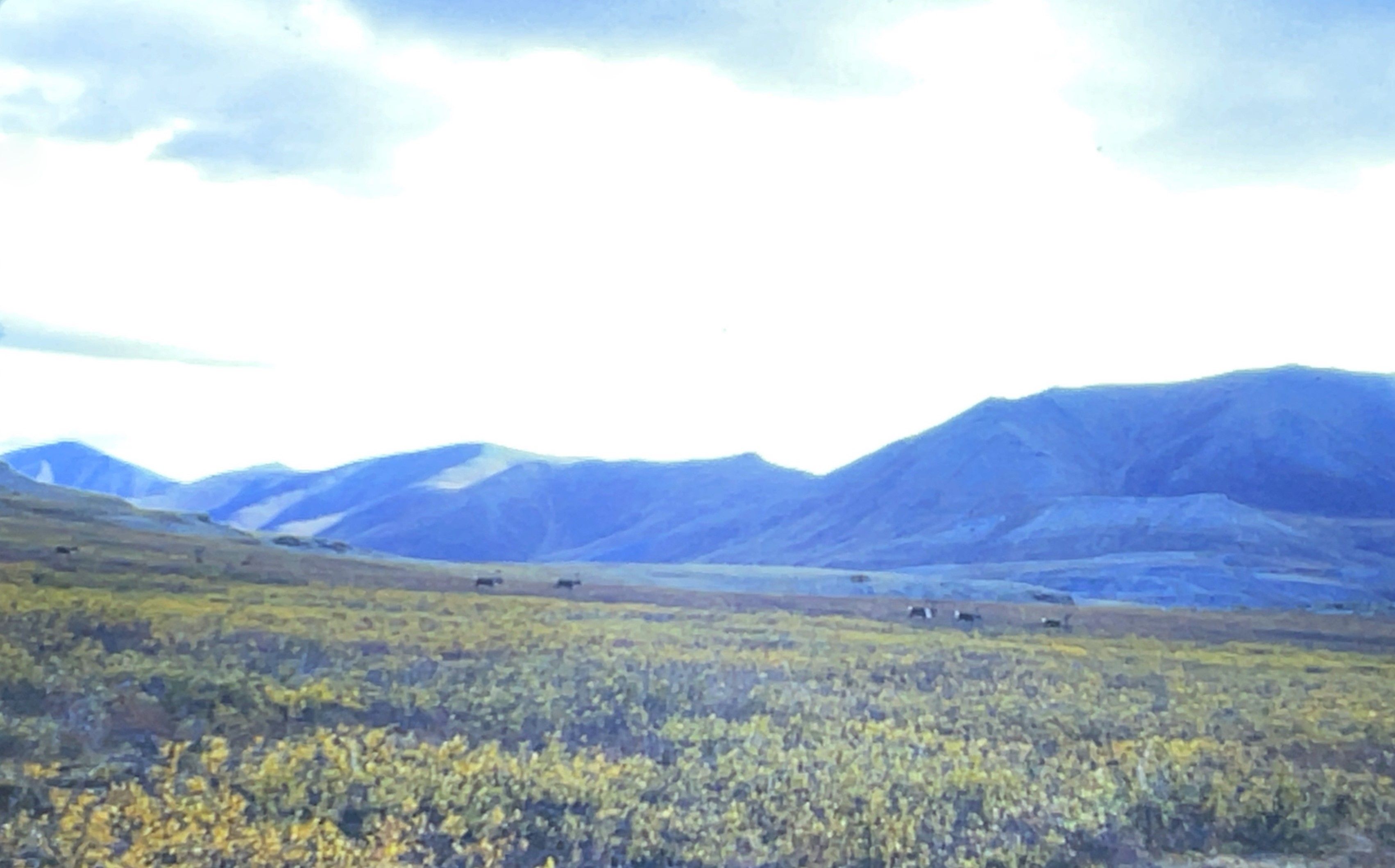 The fact that we were hundreds of miles from civilization save for a few isolated villages was a staggering thought.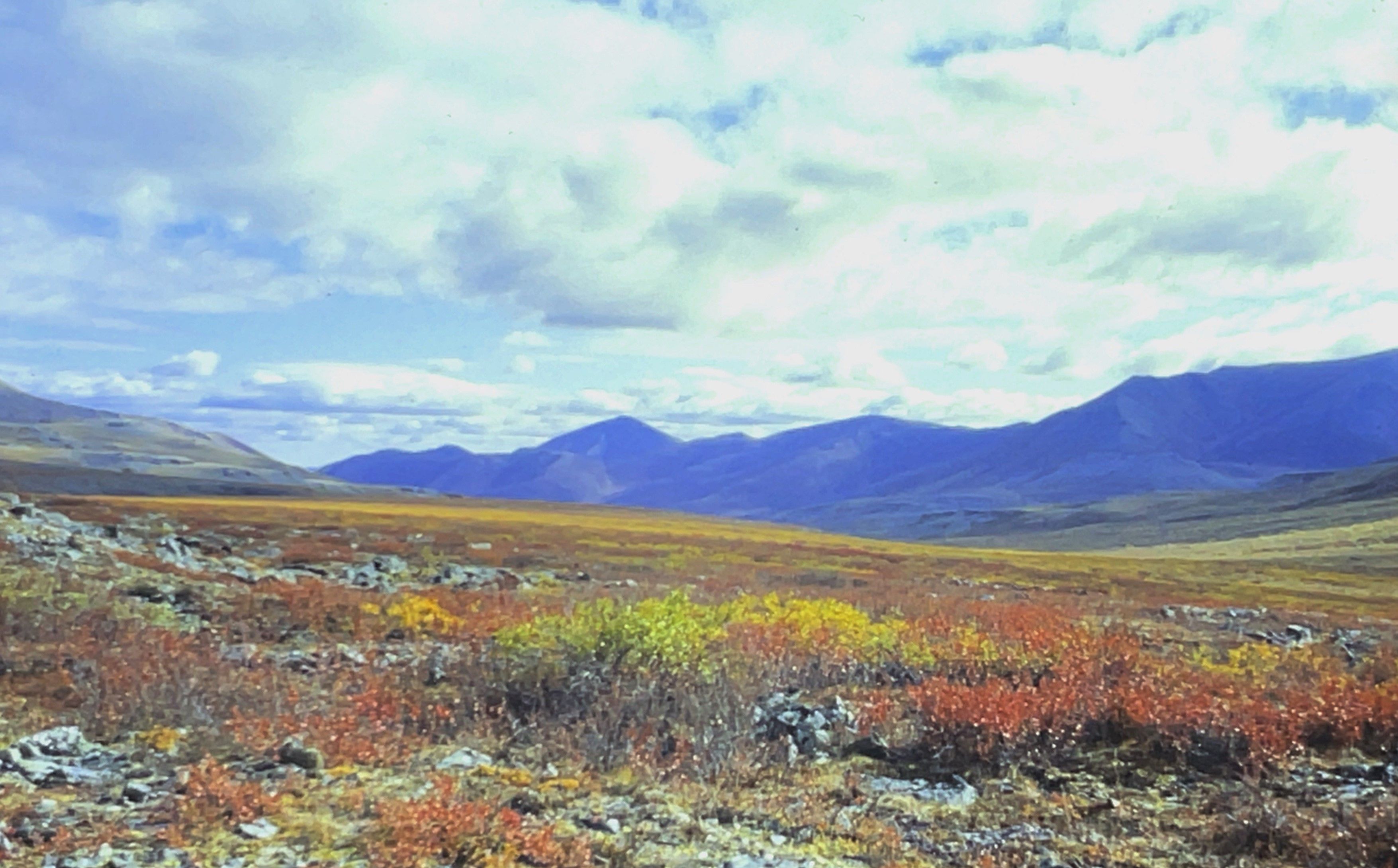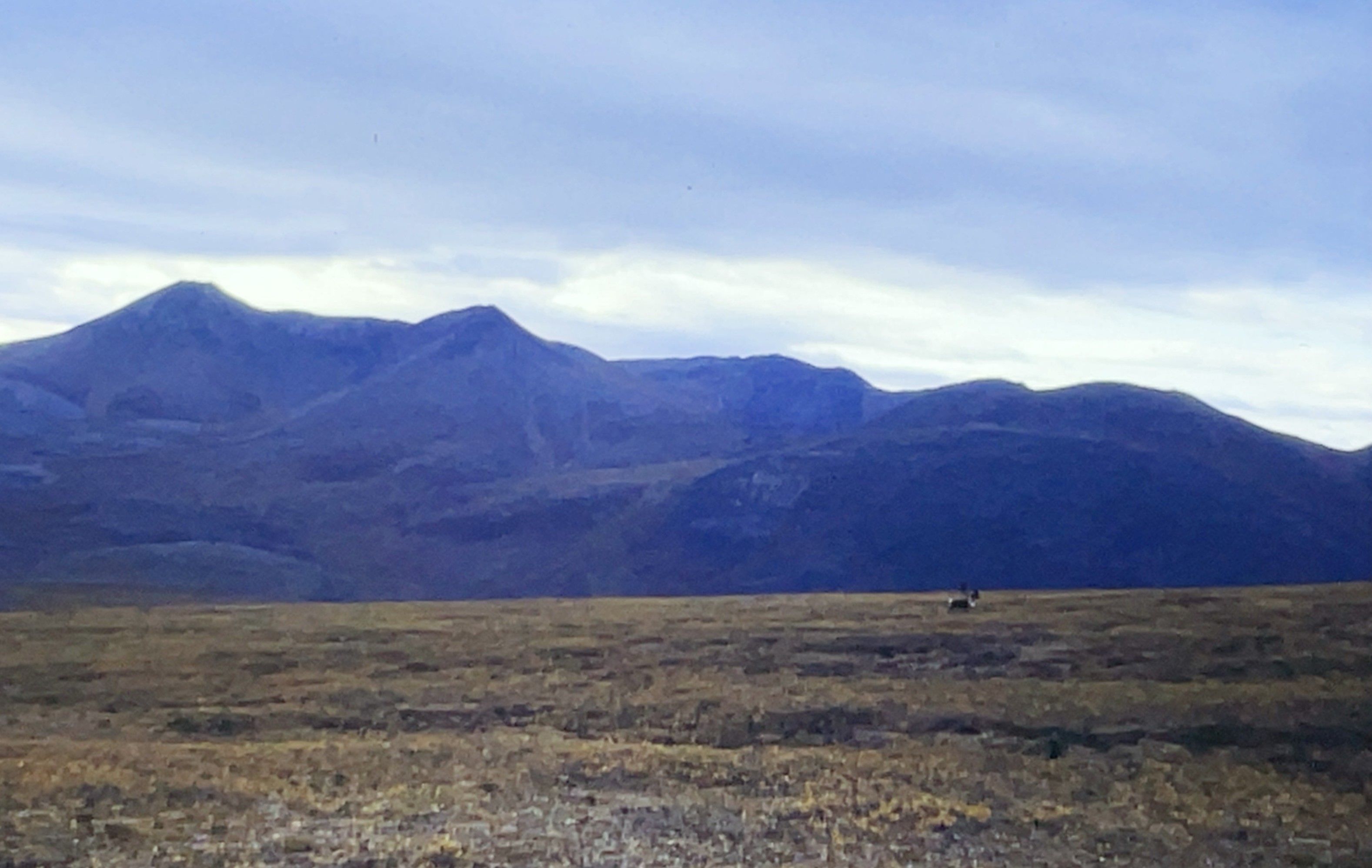 Then Sarah, Sam, Dana, and I climbed several hours to the top of peak for one of the most breath-taking vistas imaginable.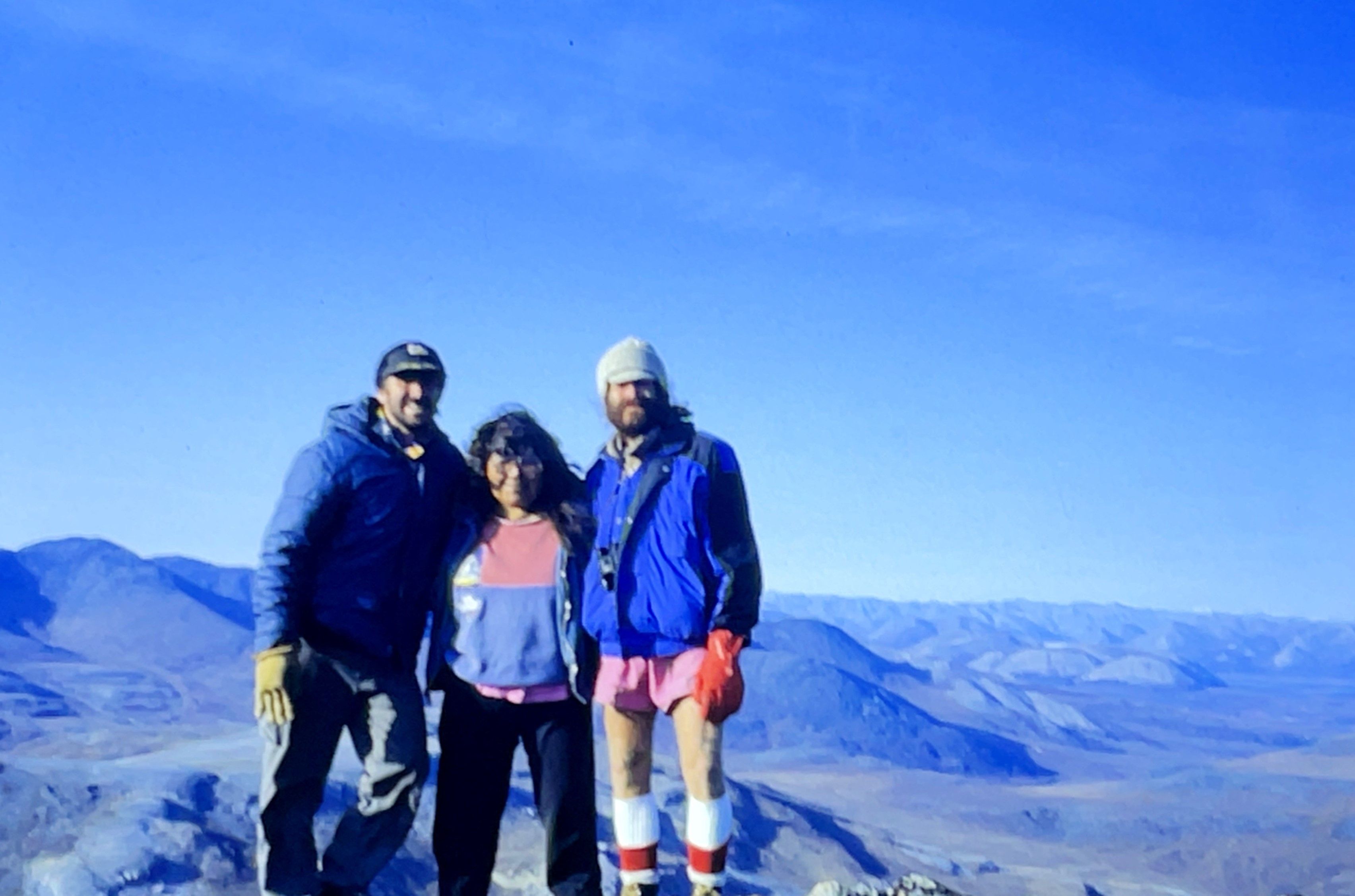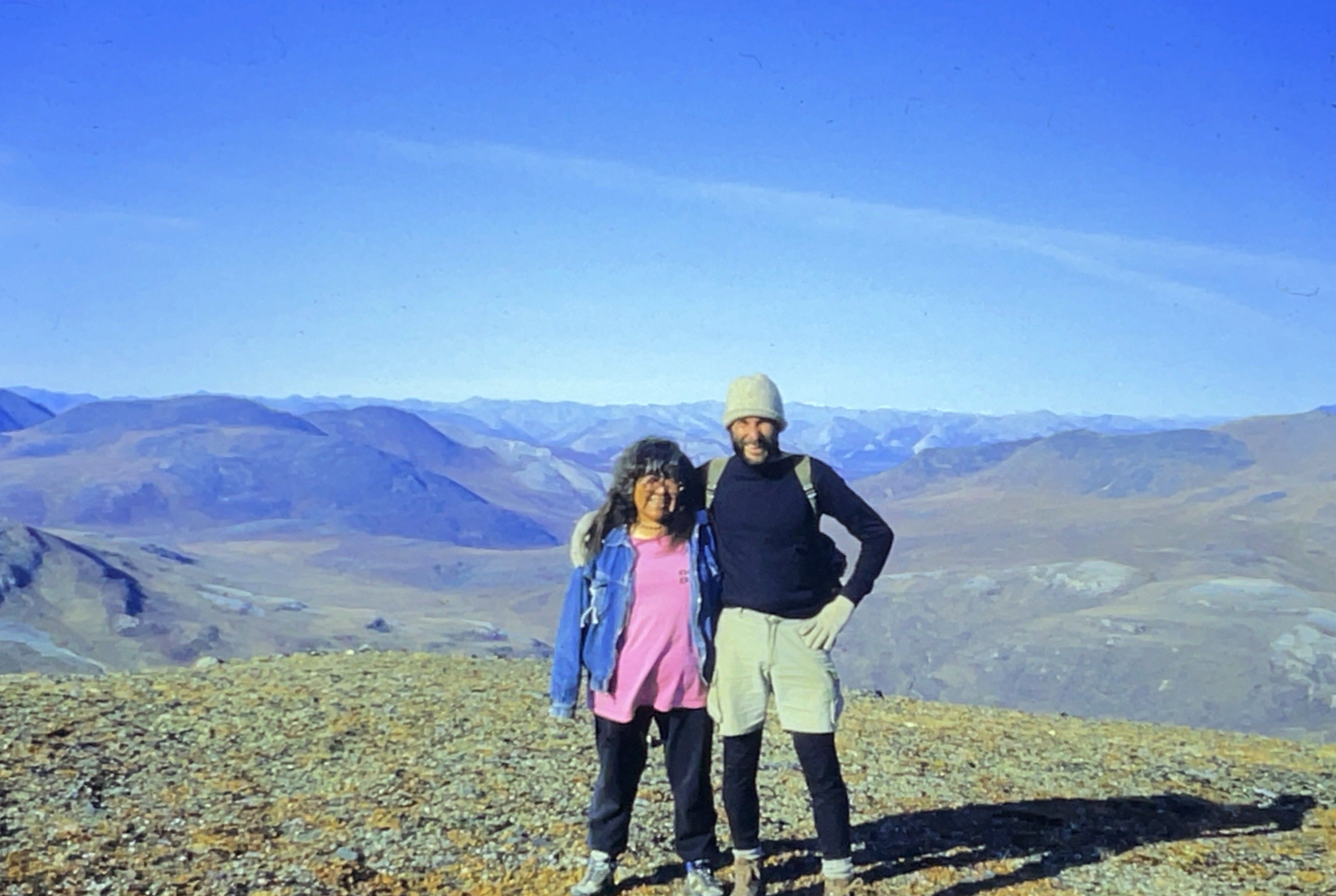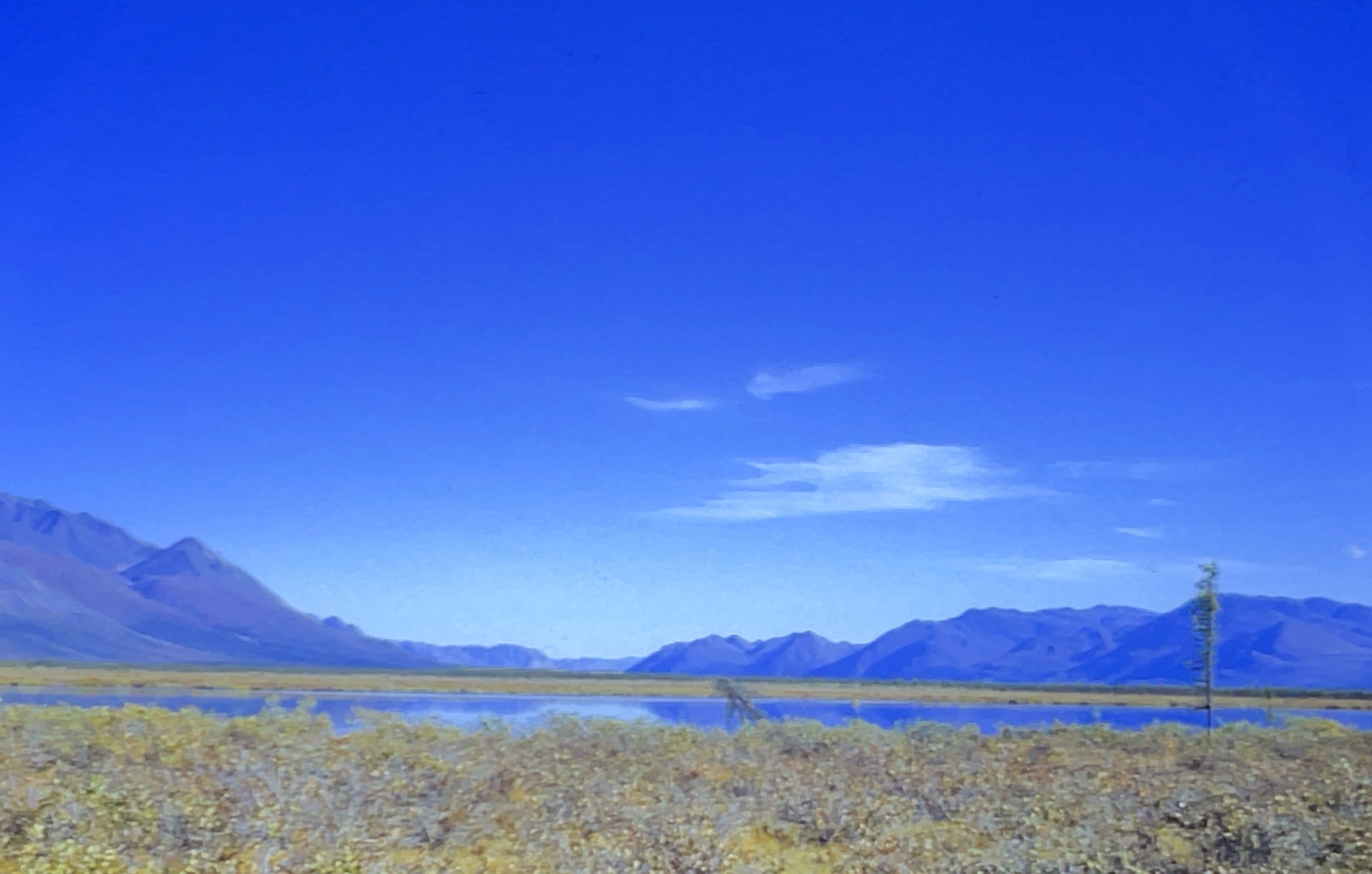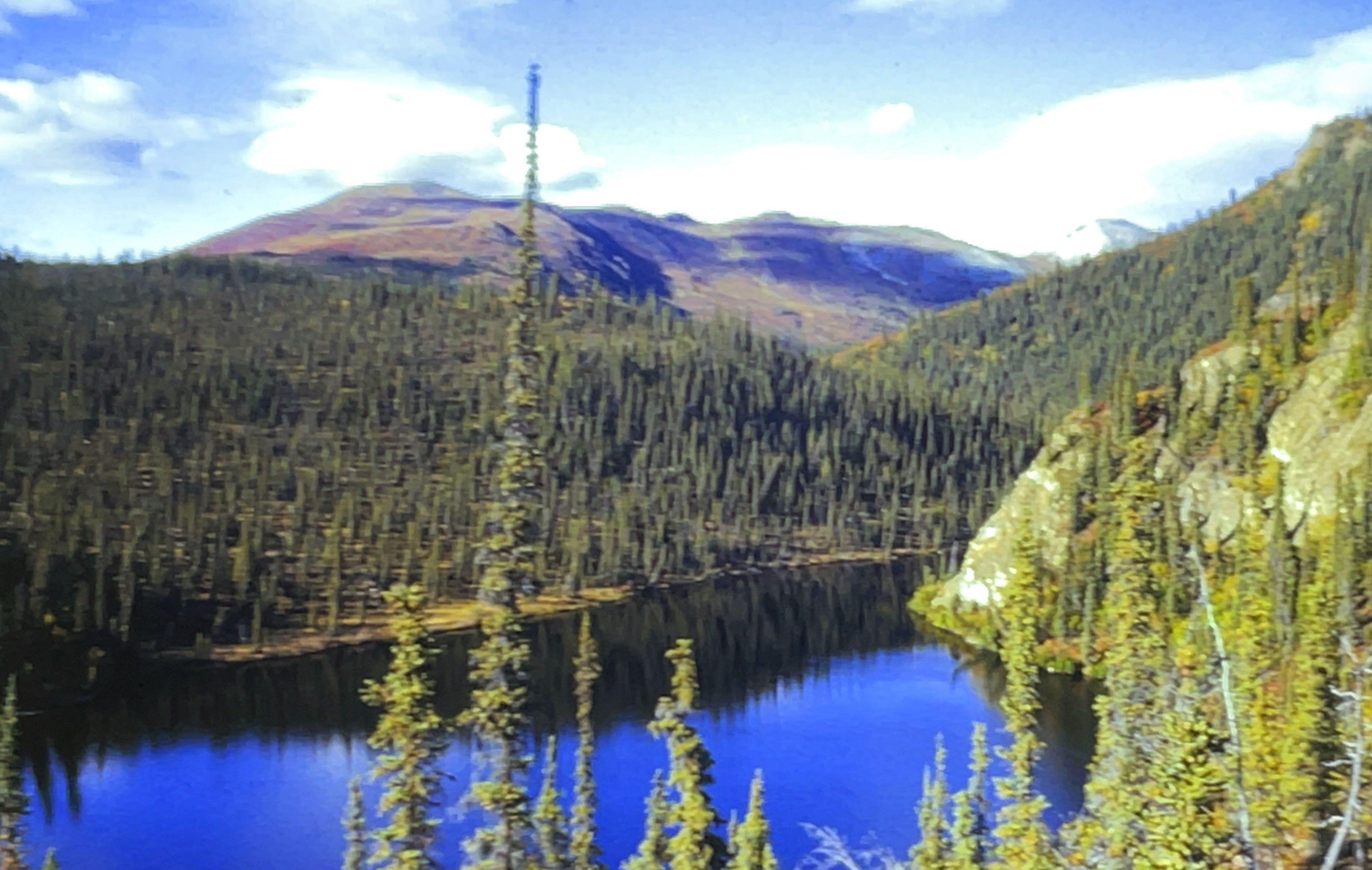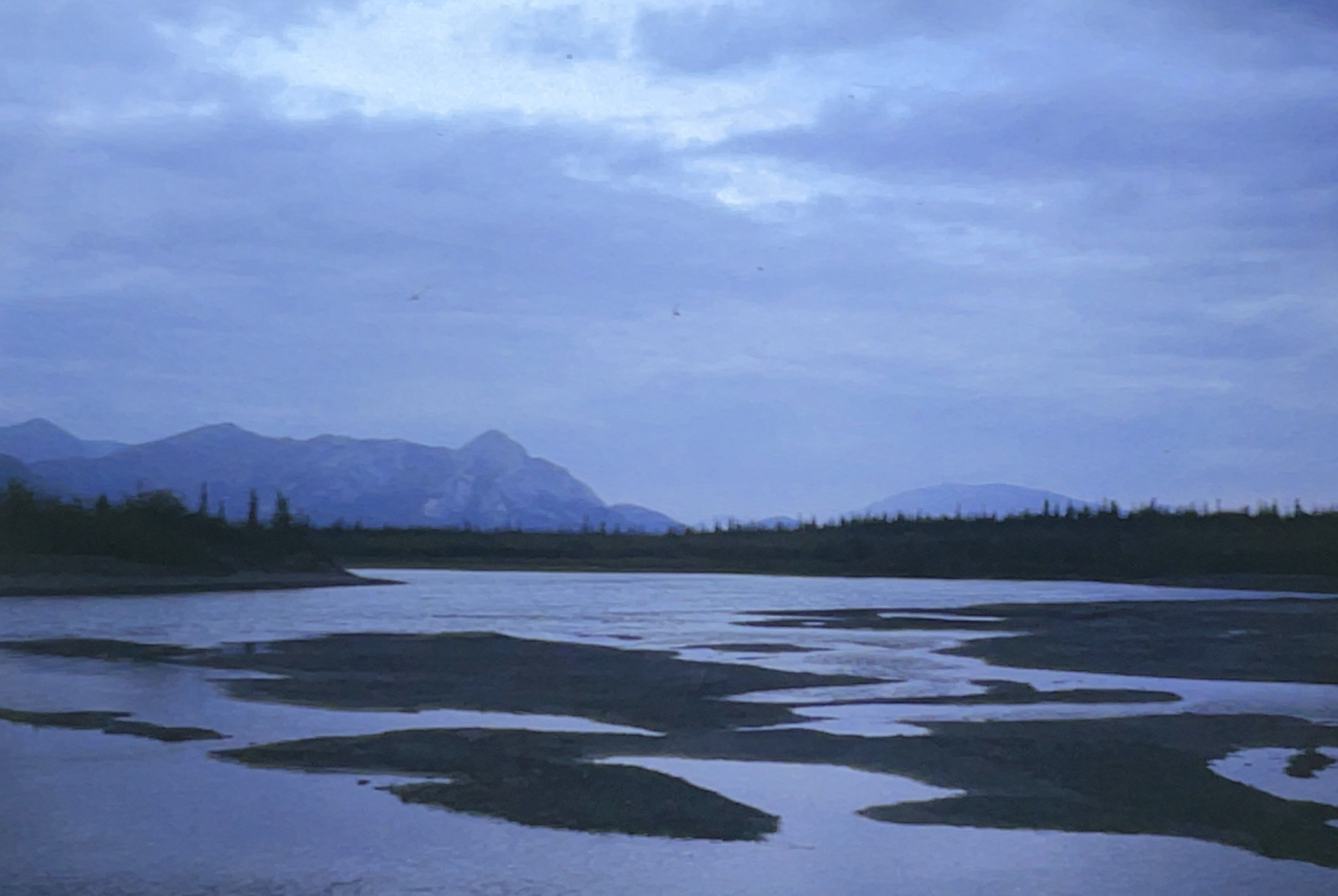 This was truly one of the most profound wilderness experiences of my life, and my love and gratitude for the big-heartedness shown us by Sarah James and the Gwich'in People would remain with me forever.  Life-long friendships were born on that trip, and we would return again from time to time in the following years.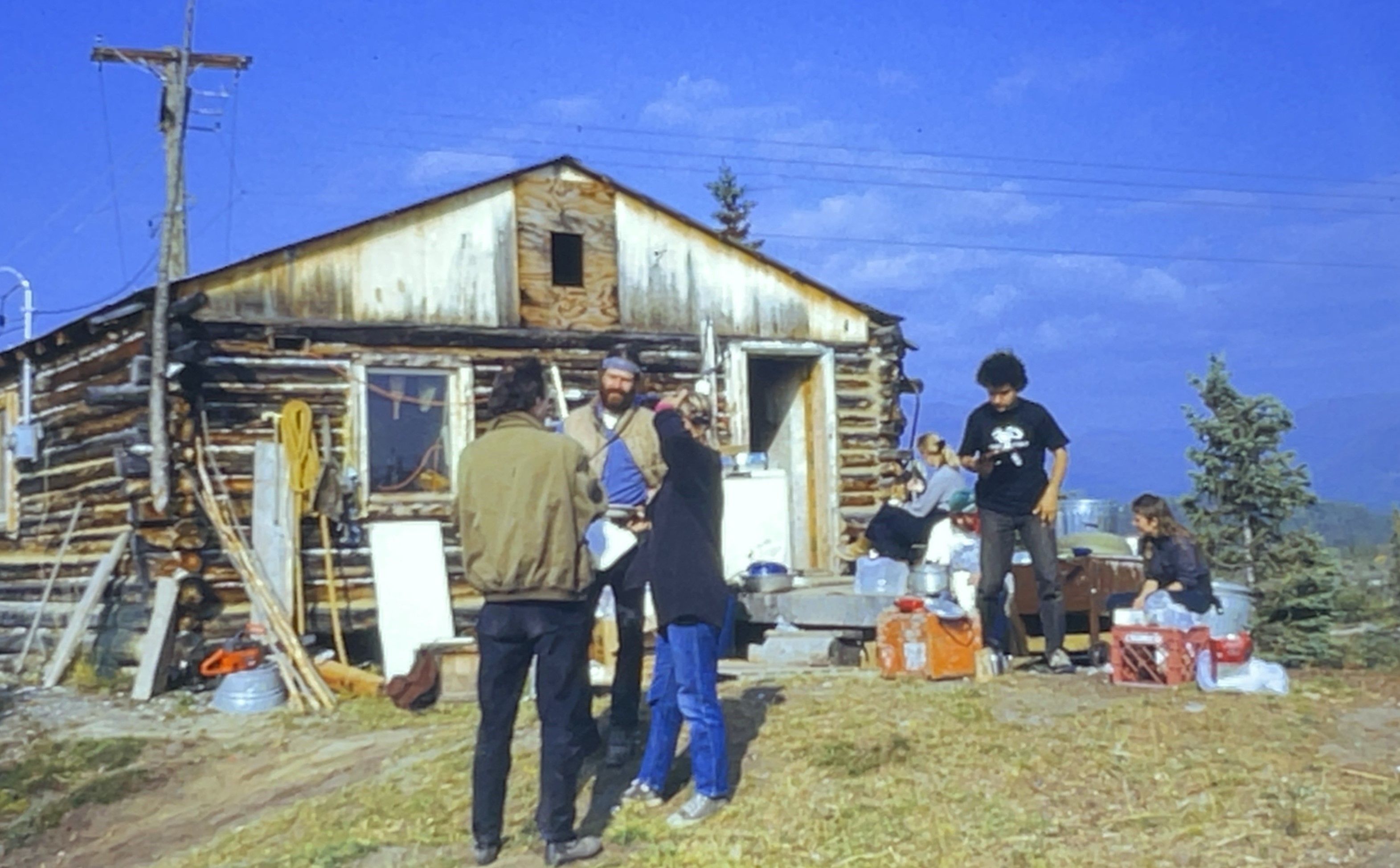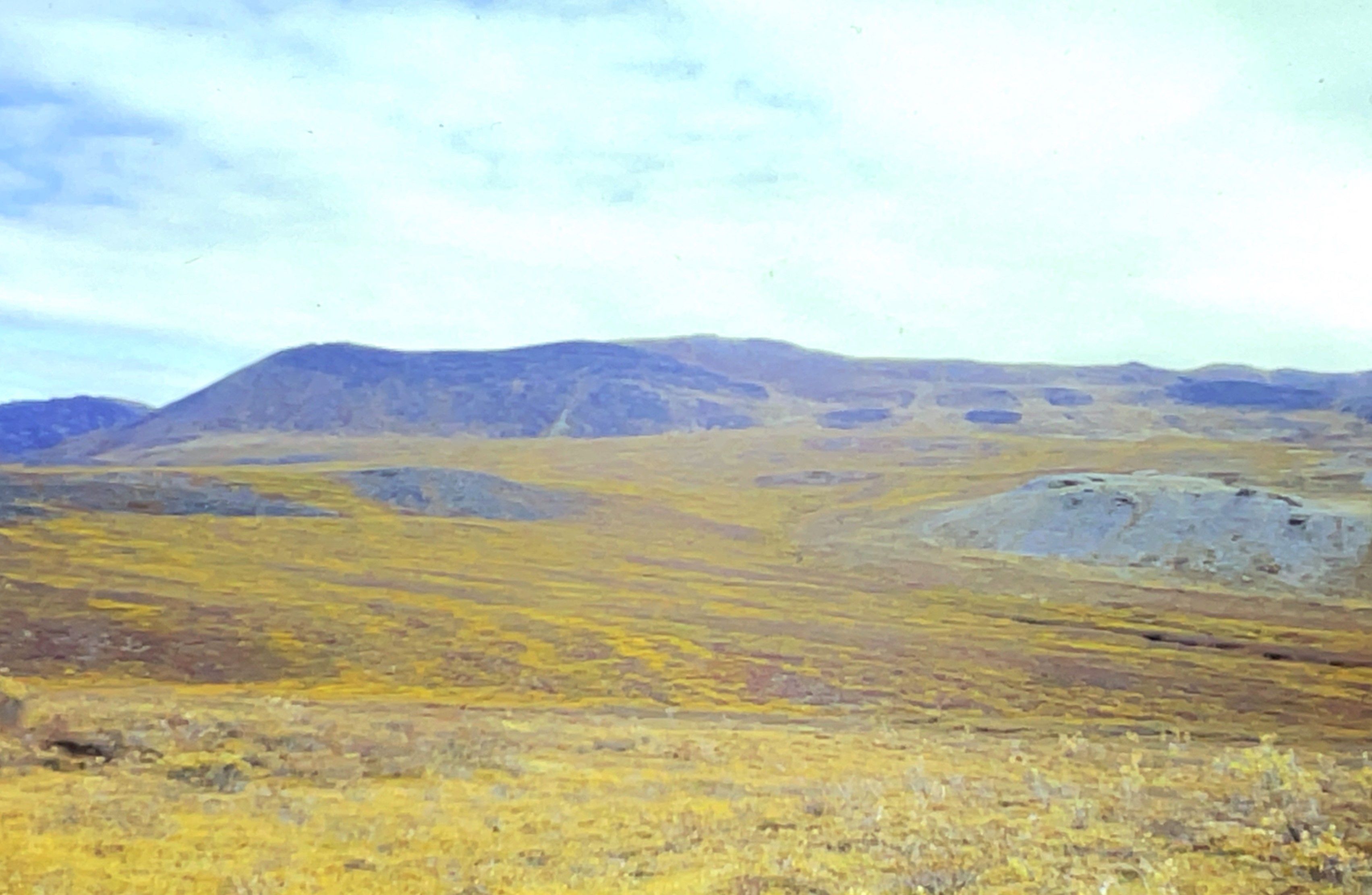 In the end, we returned to the states, firmly resolved to do everything in our power to support the Gwich'in Tribe in their fight to stop oil drilling in the calving grounds of the Porcupine Caribou.  Most people assume that drilling for oil in the Arctic Refuge is an environmental issue.  While that is certainly true, it is also the cultural birthright of the Gwich'in People that is at stake. 
Now we must remain ever-vigilant as the oil industry continues to threaten this great wilderness, and the traditional hunting grounds of the last truly subsistence tribe in North America.  The Trump Administration almost succeeded in opening the the Refuge to oil drilling.  There is no compromise when it comes to preserving the Gwich'in way of life by keeping the oil industry out of this sacred wilderness.  Please do your part to support them in their righteous struggle to maintain their traditional way of life. Write to President Biden and your congressional senators and representatives and let them know that you stand with the Gwich'in in the battle to keep this wilderness off limits to oil drilling.  Let them know how important this issue is to your heart.  Remember: The Buffalo Were Wiped Out But You Can Still Save the Caribou.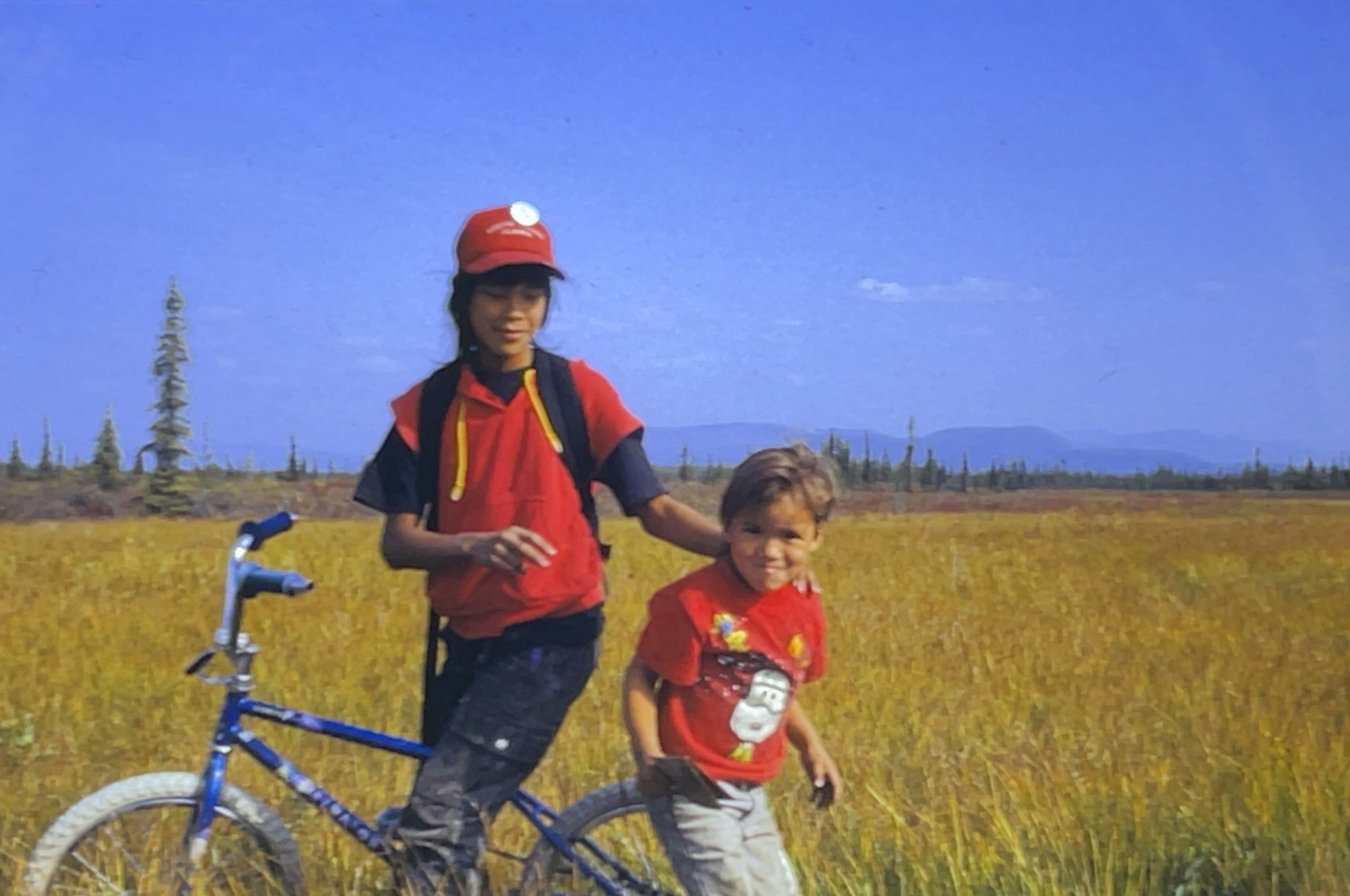 In solidarity.